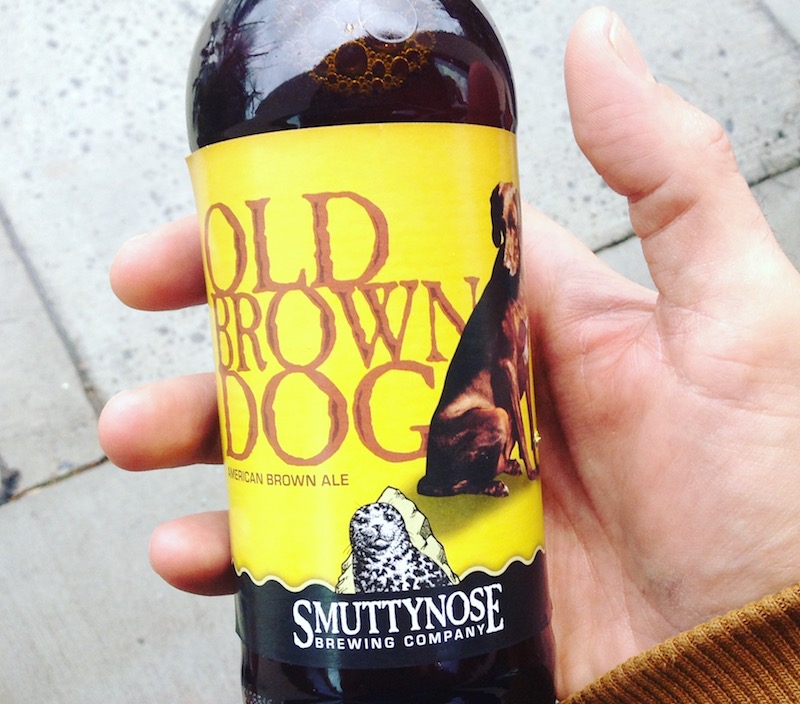 Smuttynose Old Brown Dog
One of the bigger news items of 2018 so far in the world of craft beer is that New Hampshire's Smuttynose Brewing Company is scheduled to be auctioned off a mere week from today. How is it that the top selling craft brewery in New Hampshire, a mere hour from Boston, could be in this position at a time when interest in local craft beer has never been greater? Our top three selling breweries (Night Shift, Lamplighter, and Bent Water) are all local (Everett, Cambridge, Lynn). Yet upon closer look, there are some big differences between those breweries and Smuttynose. For starters, all three of those breweries are well within the metro Boston area, whereas Smuttynose is just across the state line. All three of those breweries popped up in the current decade; Smuttynose began in 1994. All three of those breweries are self-distributed; Smuttynose is distributed by the biggest craft beer distributor in the Boston area which represents tons of different competing brands. Lastly, Night Shift, Lamplighter, and Bent Water can their beer, and Smuttynose has a bottling line. There's a lot of other factors at play here, too, such as Smuttynose moving from Portsmouth to Hampton and putting a ton of money into expansion and building a state of the art facility that is currently running at only 50% capacity. But the trend toward hyper-local, hyper-new, hyper-fresh, canned beer seems to have taken it's toll on a lot of mid-sized and larger craft breweries (see also Green Flash no longer distributing in New England). While it's possible that whoever buys Smuttynose will continue on with the brand, it's clear that the craft beer landscape has changed considerably, and there will be some major casualties along the way. For now, enjoy this excellent American Brown Ale! It's a great beer from a great brewery that is easy to take for granted since it will always be around. Except that it probably won't be.
Trappistes Rochefort 10
Speaking of great beer, here's an all-time classic from Belgium that you've most likely tried before. If not, what were you waiting for? This is one of the best known and certainly one of the best tasting quadrupels, from a Trappist monastery that was founded in the 13th century and that first brewed beer in the 16th century. Rochefort uses their own well water to make only three different beers, the imaginatively named "6" (a dubbel), "8" (a Belgian strong dark ale), and "10". While all three are considered benchmarks of each style, "10" is perhaps the most revered due to it's amazing richness and depth of flavor. There's not much to say about this beer that hasn't been said, it's just an amazing beer that you need to try and then try again.
Blaugies / Hill Farmstead La Vermontoise
There's a something a bit ironic about the fact that we aren't able to get any beer from Vermont's fabled Hill Farmstead except via... Belgium! Brasserie de Blaugies is an excellent brewery in it's own right, but for most folks, the appeal of "La Vermontoise" is the involvement of Shaun Hill, who some consider the best brewer in the world. This particular farmhouse brew definitely has a new world kick in the form of Amarillo hops, but also has an interesting malt bill featuring spelt, and some classic, distinctly Belgian yeasty qualities as well.
Banded Horn Daikaiju
Here's a nice fresh can of hoppy goodness from Biddeford, Maine. Do you like citrus? Do you like pine? This is a bruiser of double IPA that delivers both. This one drinks a bit easier than most 8.7% abv offerings on account of a rather light, pale malt bill for the style. Banded Horn's beers have been pretty impressive across the board, but this one, when it is fresh, is perhaps their finest. Drink it soon!
Toppling Goliath Hopsmack!
I could be wrong, but until yesterday I don't think we've ever sold any beer before from the state of Iowa. Welcome to Massachusetts, Toppling Goliath! This brewing powerhouse from Decorah, IA boasts some of the highest rated and most sought after beers in America, coveted by and traded amongst beer nerds the world over. Now, you can get there beers here, in a store! Will the hype and mania surrounding these beers persist in the absence of scarcity? Time will tell, but for now, we don't recommend waiting to crack this massive hop bomb.
Crooked Stave Petite Sour Rosé
It's March, and the new vintage of rosé wines are beginning to trickle onto our shelves, so it's only natural that we give you a rosé beer this month, right? This is a wild fermented ale that is aged in oak barrels on fruit skins. This is a fun, tart sour with a nice, unsurprisingly pinkish color that would be nice on a warm day. Or today!