Welcome to the latest installment of the Streetcar Monthly Pass. If you've already purchased a pass, thank you! If you haven't, you should check out this page to learn how it works. Below you'll find some information about each of this month's six Monthly Pass selections. On to the wines!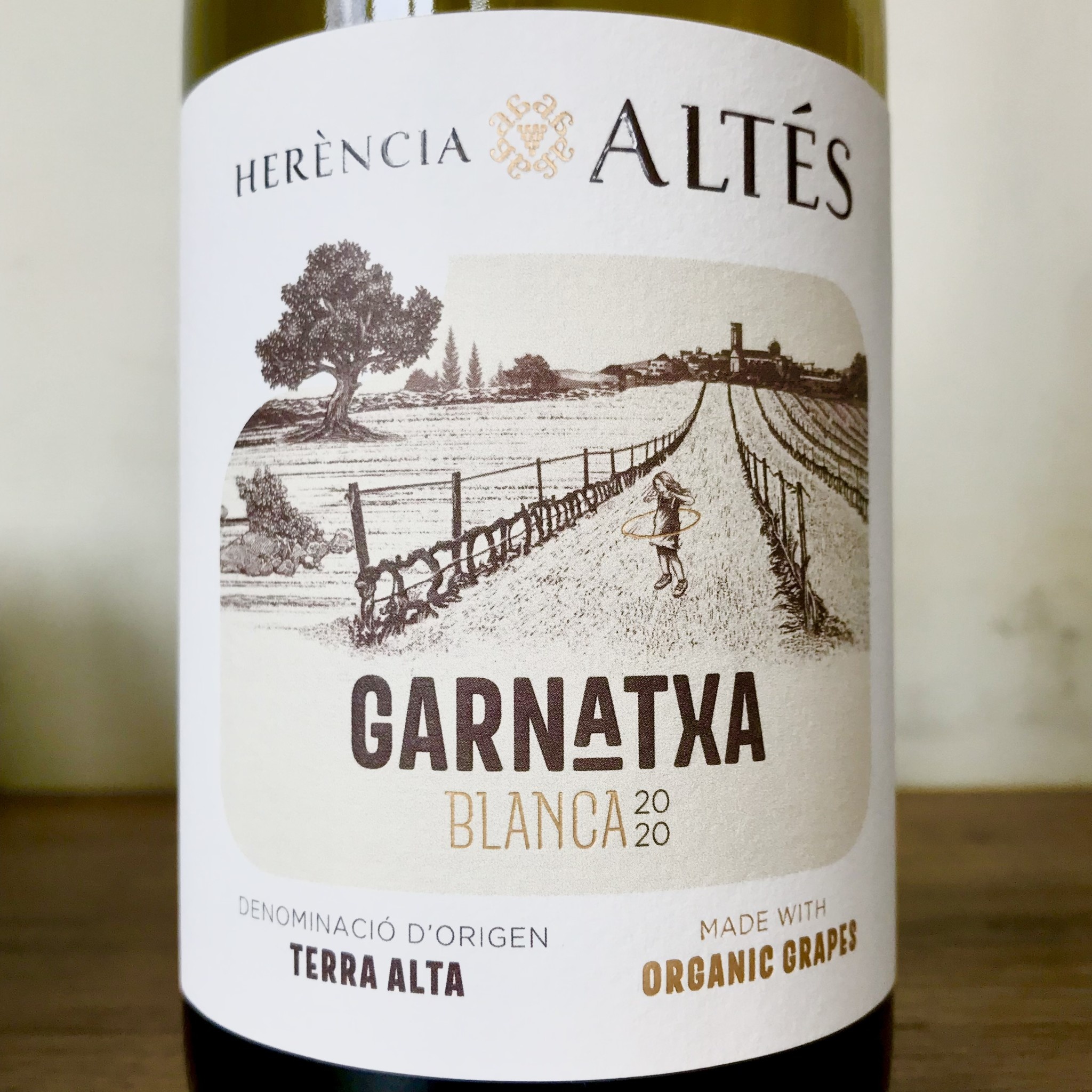 2020 Herencia Altes Garnatxa Blanca
appellation: Terra Alta (Catalonia), Spain
variety: grenache blanc
organic
Nuria Altes comes from a long line of Catalonia vine growers. Herencia Altes is an extension of her decision to start working with the vines her grandfather planted long ago. Terra Alta is in the east of Catalonia, in the shadow of the Pyrenees, swept constantly by the alternating continental and Mediterranean winds. All things garnatxa (garnacha, grenache) are planted here. Our focus here is the garnatxa blanca, from which the dark skinned version mutated centuries ago. With its spritely acidity, subtle white peach, and creamy almond, this would gladly play foil to Mediterranean cuisine of any sort, with bivalves a first instinct.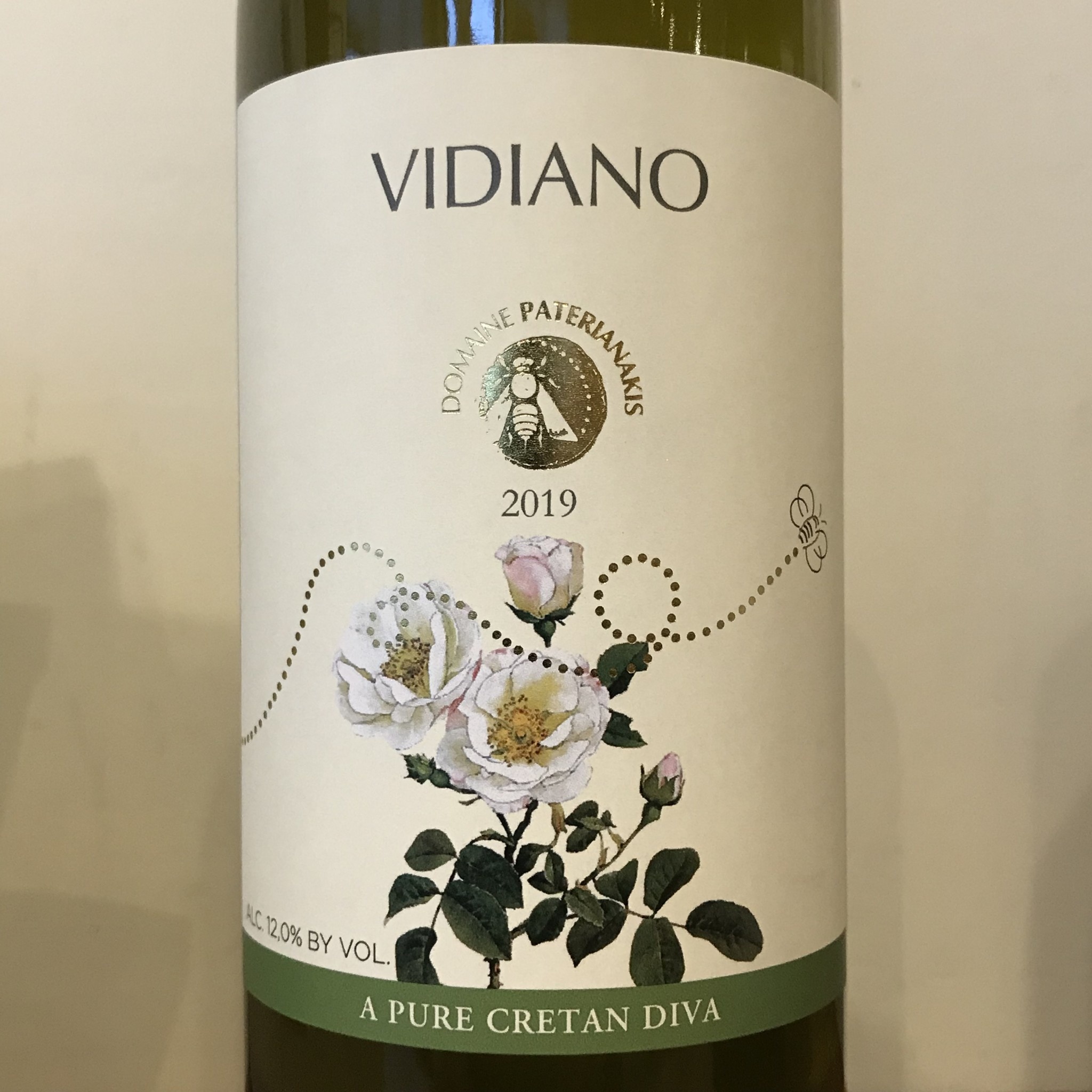 2019 Domaine Paterianakis Vidiano
appellation: Crete, Greece
variety: vidiano
organic
Domaine Paterianakis is a 3rd generation family winery located on the Greek island of Crete. Currently run by sisters Emmanouela & Niki, production is focused on rare and indigenous grape varieties like vidiano (pronounced vee-thee-ano). Low-yielding and difficult to grow, vidiano is often referred to as the "Cretan Diva". It almost went extinct 30 years ago when the Cretan wine industry centered around bulk wine production which relied on the workhorse vilana grape. Thankfully, some farmers kept a few rows of vidiano going during these years and now the grape has taken off due to their efforts and the new generation of winemakers who became its champion. The Paterianakis bottling is a great introduction to the variety, displaying its typical traits: aromas & flavors of fresh stone fruit & citrus, a creamy mouthfeel and ample but balanced acidity. This wine loves seafood (halibut, scallops, etc.) and Mediterranean fare but lemon-herb chicken or a pan-fried halloumi salad also sound pretty nice.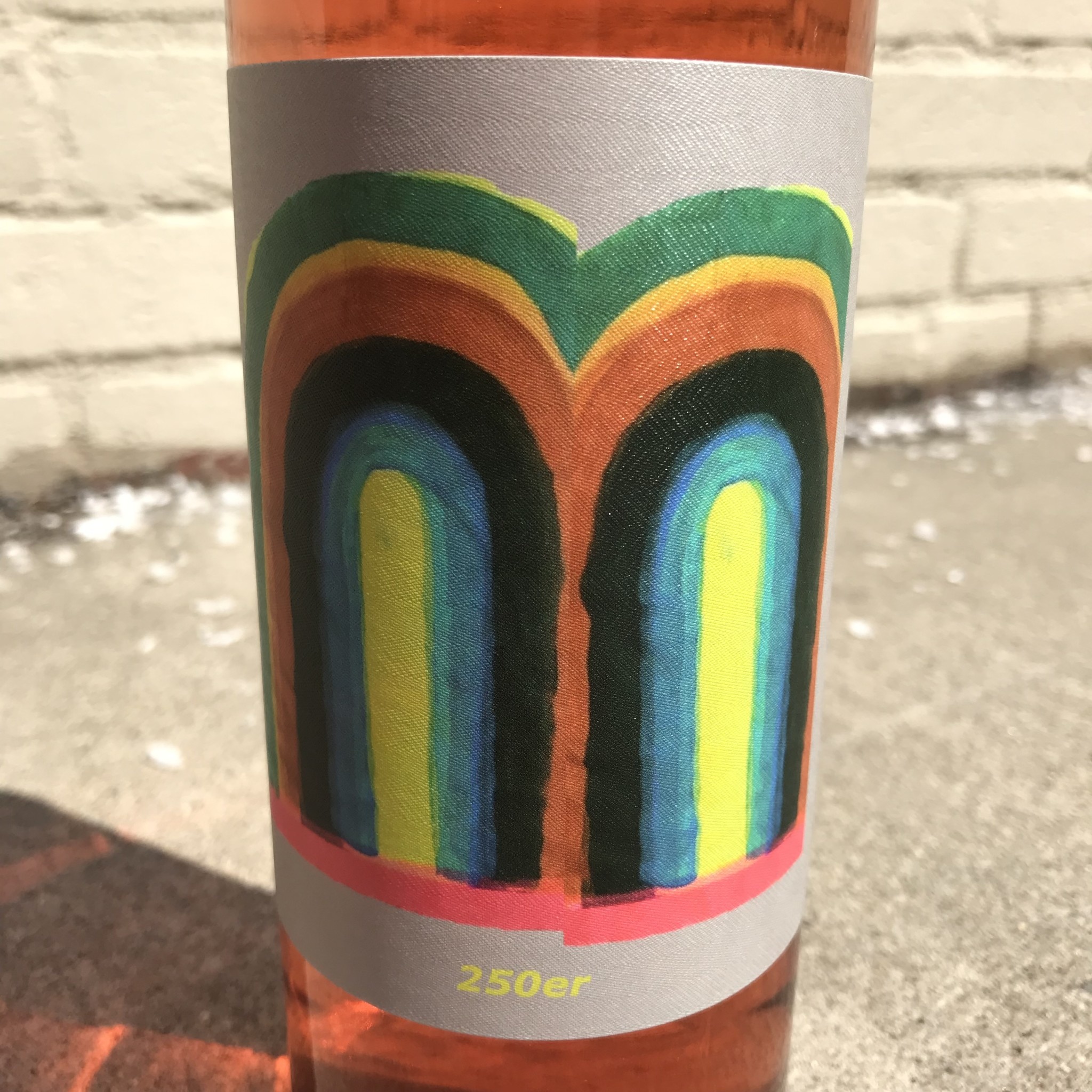 2020 Schlossmuhlenhof "Pinke Pinke"
appellation: Rheinhessen, Germany
varieties: muller thurgau, sankt laurent, gelber muskateller
organic
Founded in 1846 and now tended by the sixth generation since, the Schlossmühlenhof property is a large estate spread across the slopes above Kettenheim, just a few km south of the town Alzey. Nicolas Michel is crafting characterful wines with a clear acknowledgment of the Rheinhessen tradition, but more in step with the youthful energy of the next generation of winemakers. This is a playful blend of white and red grapes — müller-thurgau (an aromatic cross between riesling and the table grape madeleine royal), sankt laurent (a red grape in the pinot family more often seen in Austria), and gelber muskateller (aka muscat blanc a petits grains—the oldest known variety of muscat, very little plantings still in Germany). The grapes undergo whole cluster maceration for 24hrs followed by spontaneous fermentation lasting six weeks in stainless steel and the wine spends five months on lees before bottling unfiltered. Delightfully fun and refreshing, this zippy pink wine is the one to have chilled and ready for that spontaneous afternoon picnic. Grab some crackers and cheese, a tin of smoked trout, and a pint of strawberries. Nibble, sip, and bask in the warmer weather!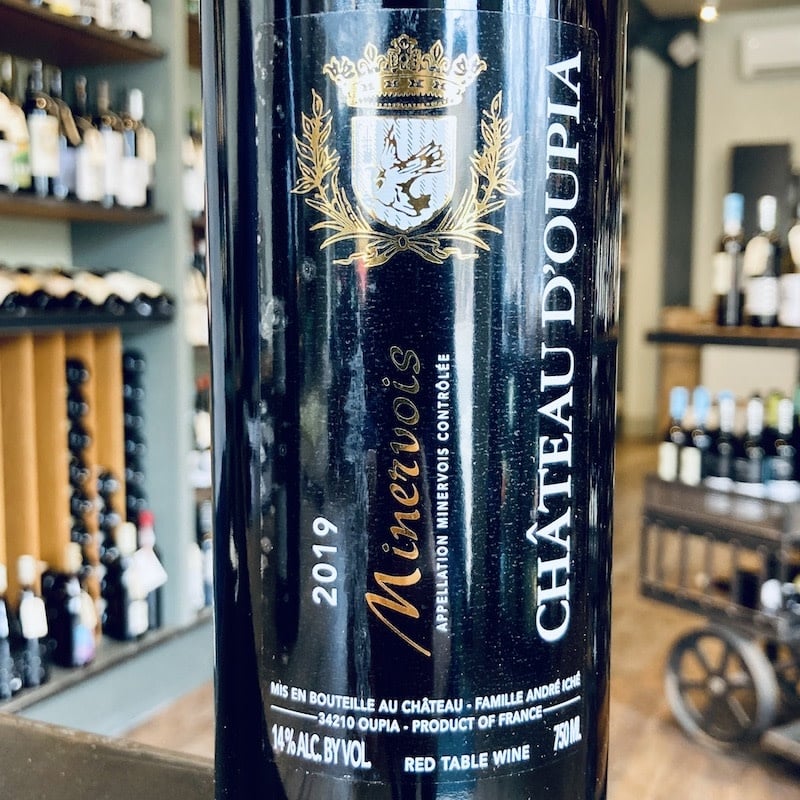 2019 Chateau d'Oupia Minervois
varieties: carignan, grenache, syrah
appellation: Minervois (Languedoc-Roussillon), France
sustainable
When he was a young man, André Iché inherited a 13th century castle and a large estate with old carignan vines and began his career as a vigneron. During those early years, carignan was all the rage among growers in France due to its high yields and low water requirements; however, this resulted in a lot of poor quality wine destined for distillation. André sold his wine in bulk - just as his neighbors did - until a colleague from Burgundy convinced him that his superior product deserved its own label. From there, he gradually accumulated more vineyards and began to improve the reputation of both the grape and the region, focusing on quality over quantity. In 2007, he passed away, leaving his daughter Marie-Pierre to run the estate. The wines have remained consistent, delicious and affordable. Château D'Oupia's "Les Heretiques" has been a customer favorite on the casual cart for some time and their Minervois should delight as well. Medium-bodied and balanced with fleshy dark berry fruit, a hint of earth and spice and minimal tannin, it's a great food wine. Try it with wild rice & mushrooms or dishes that showcase herbs, spices and berries.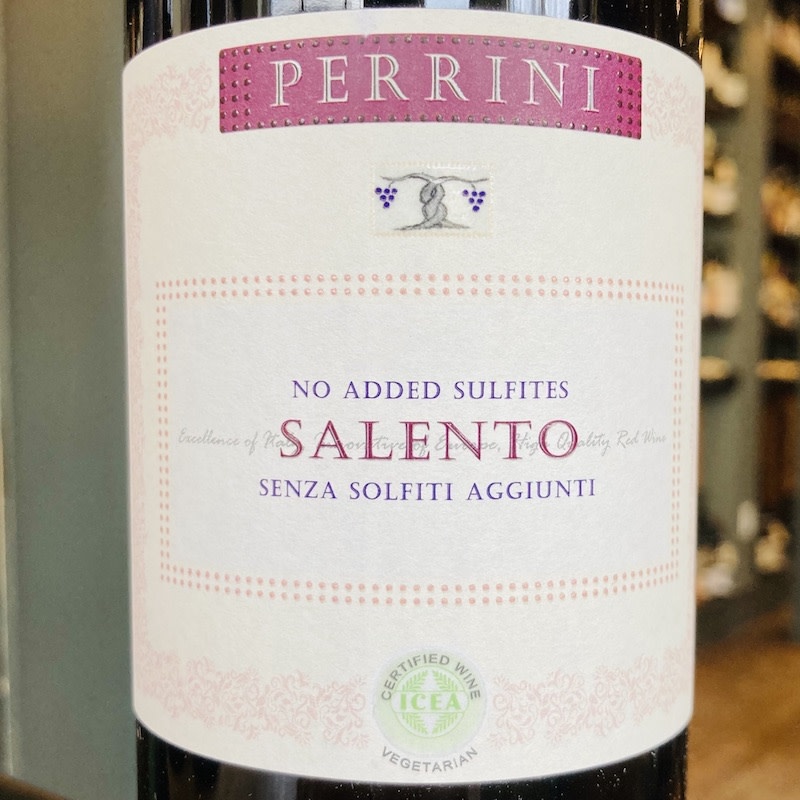 2020 Perrini Salento
appellation: Salento (Puglia), Italy
varieties: negroamaro, primitivo
organic, no added sulfites
Mila and Vito Perrini were early converts to organic viticulture in Puglia, a region which produces a huge amount of wine and where farmers are rewarded more for high yields than quality of their grapes. The siblings made the switch to organic in 1993, began estate-bottling instead of selling their grapes, built an underground cellar, and have been modestly making their subtle, natural wines in a region better known for a bigger, often heavy-handed style of wine. In the glass, you can feel the ripeness potential from the hot and dry Salento summer and appreciate the restraint required to produce a gracefully balanced, pleasurable wine. This was lovely alongside an easy weeknight dinner of Italian sausage and rigatoni, with wilted spinach and spicy Calabrian peppers.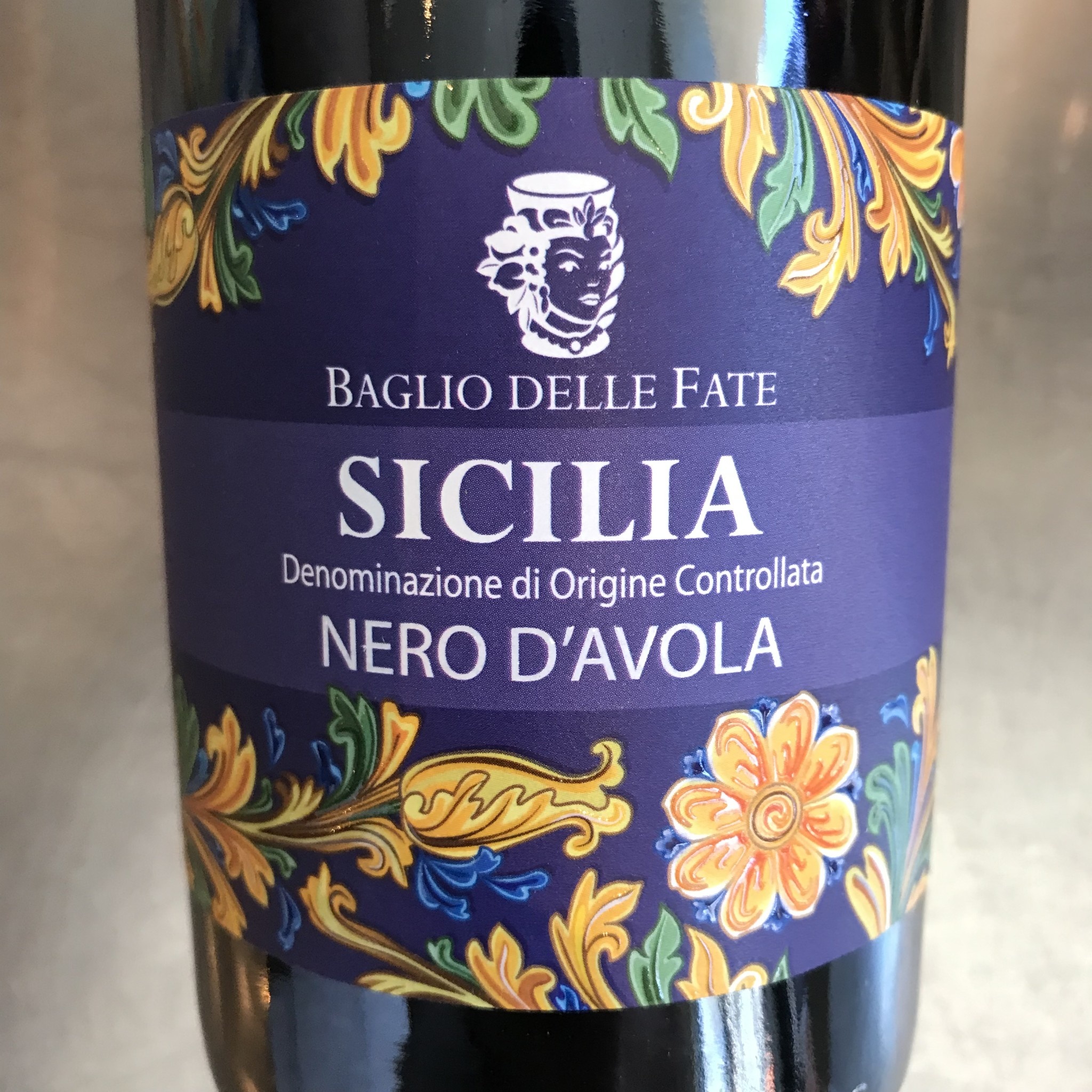 2020 Baglio delle Fate Sicilia Nero d'Avola
appellation: Sicilia, Italy
variety: nero d'avola
Baglio delle Fate is a project in southern Sicily run by siblings Valentina and Cesare, who also own and operate the Judeka vineyard. Located in Caltagirone, a town with a rich history of producing ceramics and a destination for enthusiasts of the hand-painted bold blue, green, and yellow designs depicted on this bottle. Notable is the famous 142 step staircase of Santa Maria del Monte, adorned with unique ceramic tiles. The vineyards are farmed organically and sustainable practices are used in the cellar. This is a lively, easy sipping nero d'avola with plenty of dark berry fruit and a little smoky, savory character, even some coffee and cocoa notes—perfect for dusting off your grill and enjoying warmer spring days. Burgers sound just right, alongside grilled spring onions and vibrant green salad. (If this wine intrigues you and you want to pick up a special bottle, try the COS Cerasoulo we just restocked which is a benchmark Sicilian red blend of nero d'avola and frappato from a beloved producer.)