Welcome to the latest installment of the Streetcar Monthly Pass. If you've already purchased a pass, thank you! If you haven't, you should check out this page to learn how it works. Below you'll find some information about each of this month's six Monthly Pass selections. On to the wines!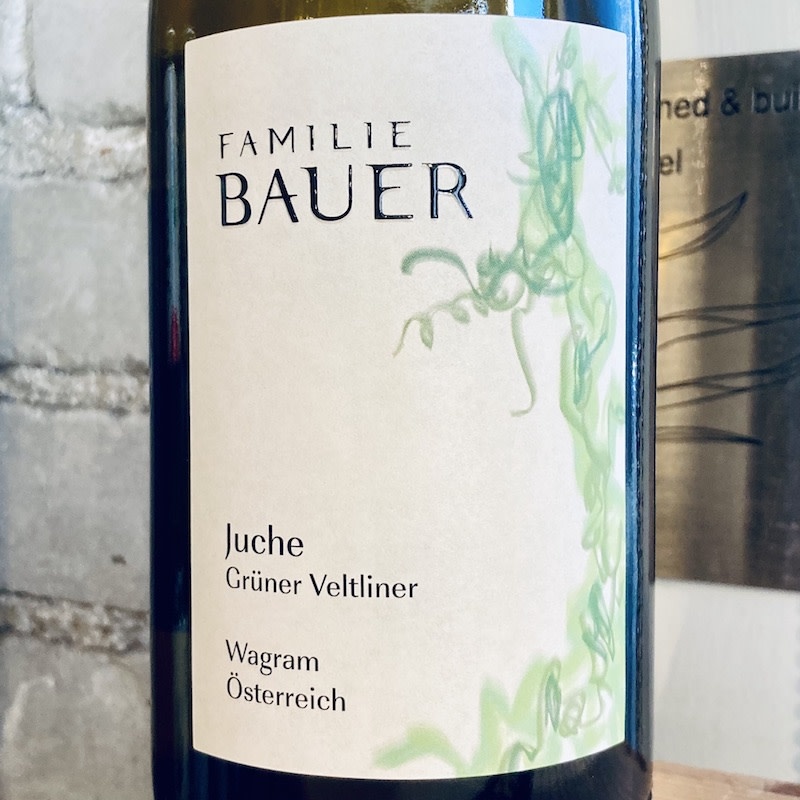 2020 Familie Bauer "Juche" 
appellation: Wagram, Austria
variety: grüner veltliner
organic
Familie Bauer is located in the Grossriedenthal area of the Wagram region in northern Austria. Josef Bauer and his wife Eva Maria believe in creating wines of the best quality through environmental conscientiousness. In their modern cellar they craft crisp, clean wines from their 17 hectares of vines of primarily gruner and roter veltliner, and smaller amounts of spätburgunder, zweigelt, merlot, blauburger and riesling, among others. "Juche" is an expression of their youngest gruner vines, pressed directly and fermented with native yeast in stainless steel tanks. It's a bright, approachable, young wine that would be at home with simple New England flavors: cod with lemon and capers, or baked stuffed haddock come to mind.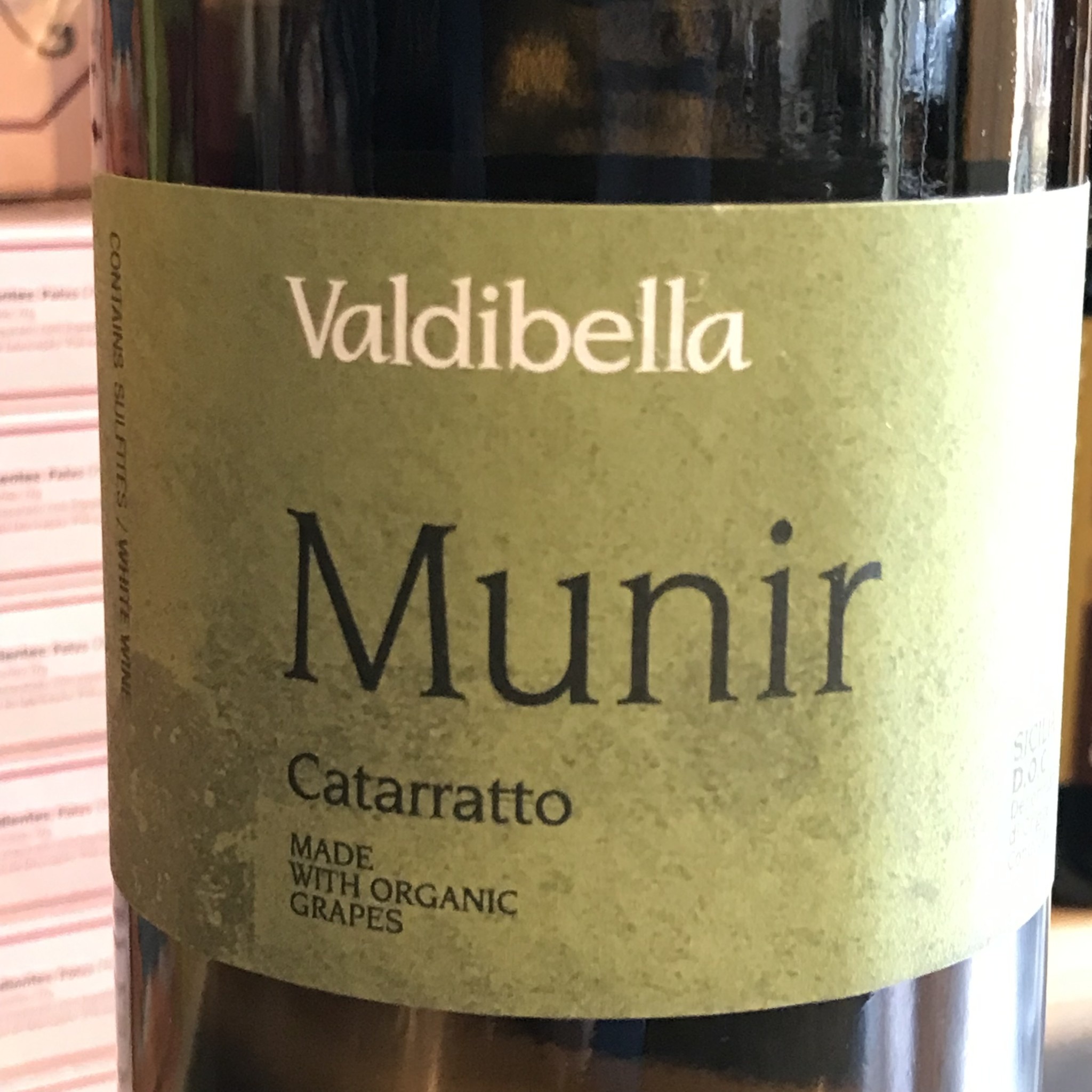 2020 Valdibella "Munir"
appellation: Sicilia, Italy
variety: catarratto
organic
Just southwest of Palermo on the island of Sicily, Valdibella is a farming cooperative focused on restoring harmony to their ecosystem through organic farming and attentive stewardship to the land. They have a lovely (if maybe a bit cultish) philosophy outlined in their Biodiversity Charter which could be fun to read while sipping on this wine. They are also active members of the grassroots Addiopizzo movement, whose admirable and dangerous mission is to root out the mafia and its extortive activities across the island. Catarratto is one of the most planted grape varieties in Italy and has suffered from commercialized overproduction, but Valdibella produces several delicate versions. Coming in at just 12.5% abv, the fruit hints at a ripeness that could've been over the top, but Valdibella dialed it back, producing a restrained and youthful everyday wine with subtle notes of peach and citrus blossom. Try it with lemony garbanzo beans over rice, topped with a generous portion of peppery arugula, maybe add a tin of codfish or smoked trout…?
2019 Alta Alella "GX"
appellation: Catalonia, Spain
variety: garnacha
organic
Alta Alella is a family run project started more than twenty years ago by enologist Josep Maria Pujol-Busquets and his wife Cristina Guillen. AA is the closest winery to Barcelona, located within the agricultural area of a natural park known as the "Serralada de Marina'. The vines are grown on Sauló soil which is one of the most important elements that determines the character of the wines. Josep and Cristina's daughter, Mireia is now leading the winery. Mireia has established a micro-project, producing natural wines without the addition of any sulfites. Currently Alta Alella farms 60 hectares within the D.O Alella - the smallest D.O. in Spain - and the D.O. Cava. Try this juicy, transparent garnacha with lentils and fried shallots, mezze, or paella Mixte.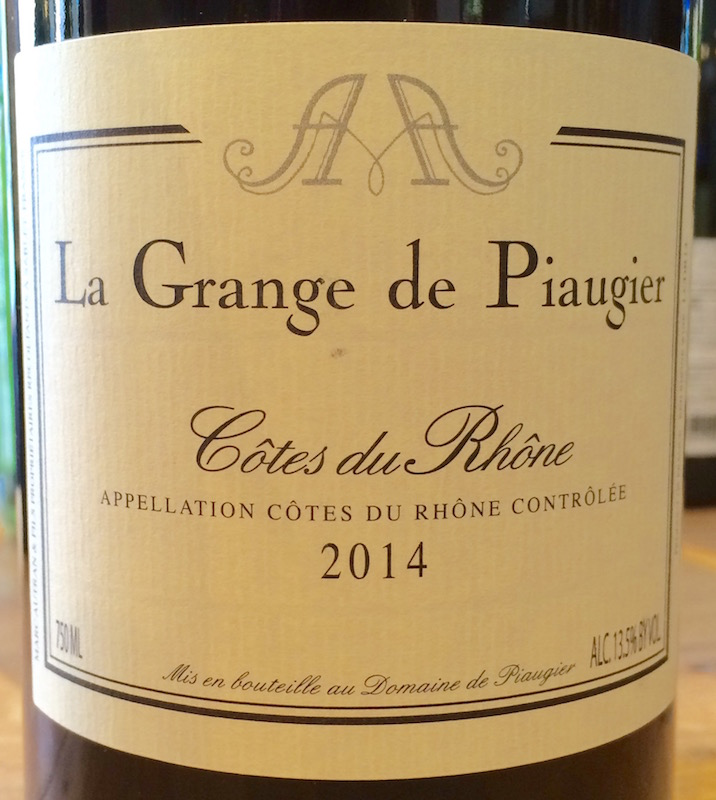 2019 La Grange de Piaugier
appellation: Cotes du Rhone, France
varieties: grenache, syrah, mourvedre, etc
Domaine de Piaugier was started by Jean-Marc Autran's great-grandfather, who had 6 hectares of vines on top of a small hill near Sablet. Today, Sophie and Jean-Marc Autran cultivate 3.5 hectares within Gigondas, 12.5 hectares in Sablet, and 14 hectares of Côtes du Rhône vineyards. The domaine is split into many small areas located on different soil types: clay with limestone and sand, clay with chalk, and sand and gravel soils, and the vines are on average, 20-40 years old. The grapes are harvested separately, parcel by parcel and all of their grapes are hand harvested. "La Grange" is a classic Cotes du Rhone blend, featuring primarily grenache, seasoned in order by syrah, mourvedre, cinsault, and carignan. The wine is aged in cement tanks and bottled without fining or filtration. This is our top-selling Cotes du Rhone of all time at the shop, and for some reason we turned our backs on it last spring. Enjoy it as you would any bistro red -- with good, hearty, simple food.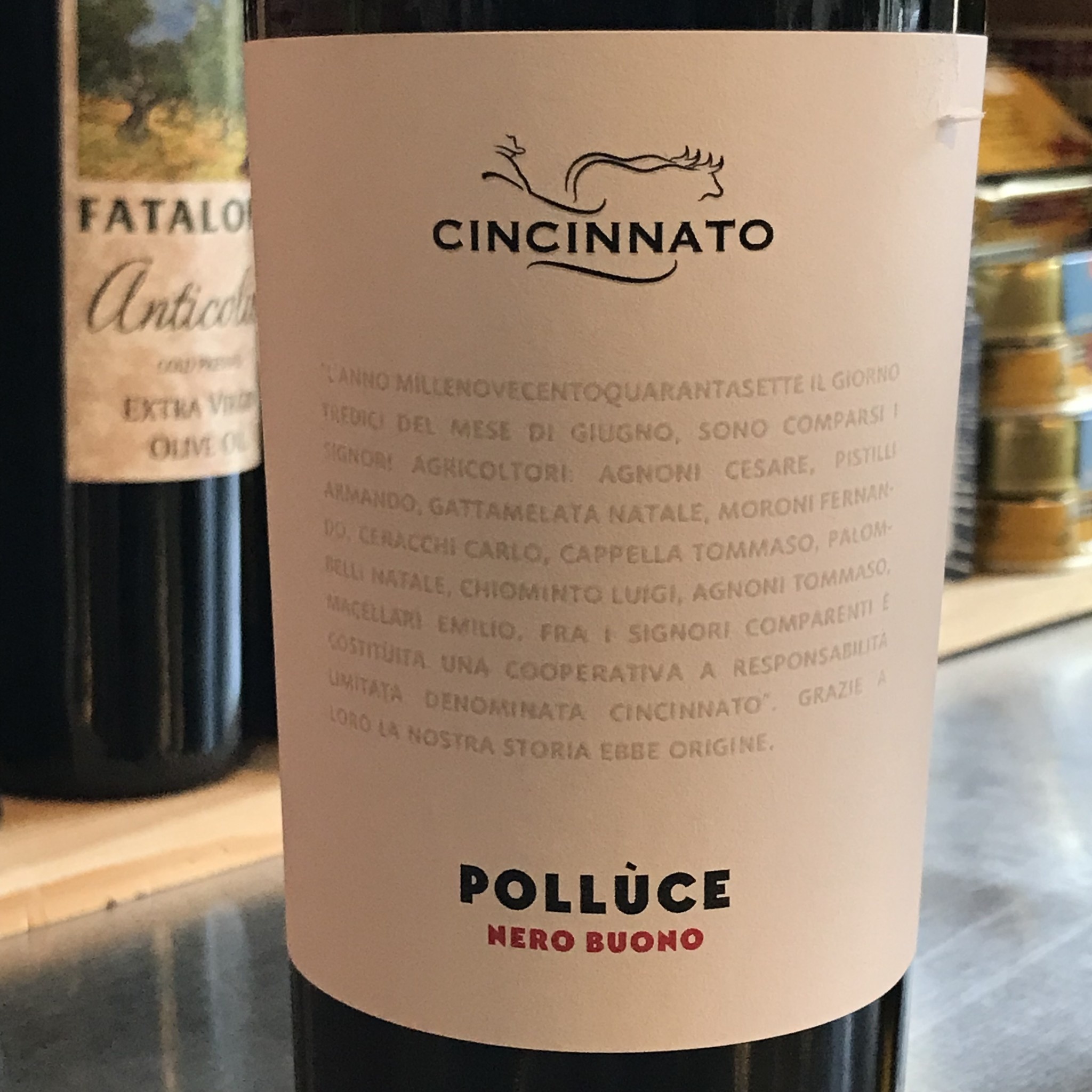 2018 Cincinnato "Polluce"
appellation: Lazio, Italy
variety: nero buono
Cincinnato's focus is on two varietals native to Lazio: the white grape bellone (which we have, and you should try!) and the red nero buono. They are a cooperative of 130 families organically working 550 hectares southeast of Rome, in the ancient hillside town of Cori. The "Polluce" bottling is named in honor of the nearby Temple of the Dioscuri, a monument to the brothers Castor and Pollux. It's distinctly Italian, with dark red fruit and gentle tannins. Let it open up while you make a hearty bowl of bucatini cacio e pepe. Light some candles and remember the days will be longer again soon. Try to find Pollux, the brighter twin, in the night sky.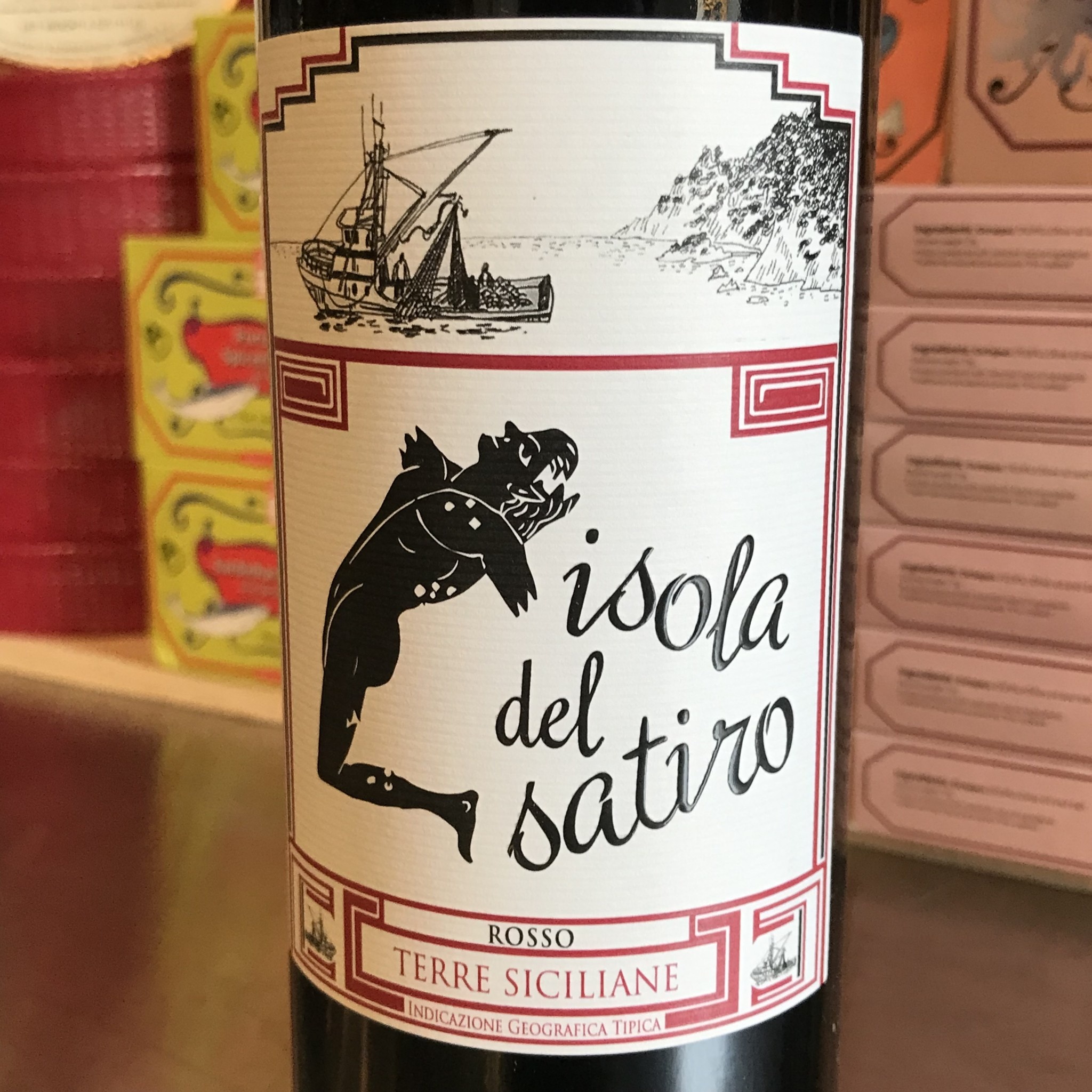 2019 Alcesti "Isola di Satiro"
appellation: Terre Siciliane, Italy
varieties: nero d'avola, perricone
Alcesti is a family-owned and -operated winery located in the Marsala region of Sicily (yes, that Marsala). While the Palladino clan doesn't produce any fortified wine, they do make a variety of real-deal Sicilian wines with indigenous grapes (organically farmed, too!). "Isola del Satiro" translates to "Island of the Satyr" and there's a little story on the label explaining why this bottling is so-named. A blend of the island's red claim to fame, nero d'avola and regional favorite perricone, this dry table red lands on the lighter side with juicy cherry fruit, soft tannins and a long persistent finish. Enjoy this ode to conviviality and mischief on pizza night, burger night or with heftier seafood dishes like swordfish.