Welcome to the latest installment of the Streetcar Monthly Pass. If you've already purchased a pass, thank you! If you haven't, you should check out this page to learn how it works. Below you'll find some information about each of this month's six Monthly Pass selections. On to the wines!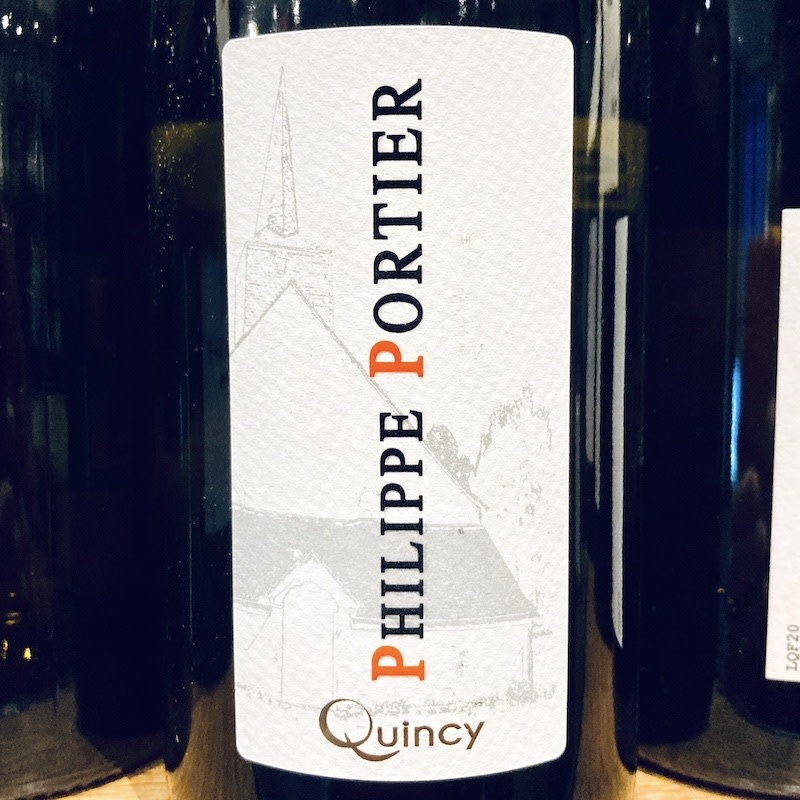 2019 Philippe Portier Quincy
variety: sauivgnon blanc
appellation: Quincy
sustainable (HVE level 3)
Quincy is an appellation located on a tributary of the Loire River known as the Cher. It was actually the second AOC to be recognized in France (behind Châteauneuf-du-Pape), and who knows what turn of fate might have allowed it to be a household name instead of neighboring Sancerre? Philippe Portier's Quincy offers all the characteristic stone fruit, citrus, white flower, and herb character we expect from the Loire. Coming from a peasant family established in Brinay for four generations, Philippe took over the family business in 1985. His wines are focused and expressive, and an excellent alternative to the ever more scarce Sancerre. Classic pairing would be seafood—flaky white fish or plump seared scallops with a bright and simple citrus-fennel salad. Or skip the hassle of making dinner and opt for fancy crackers, a tin of fish (we've got you covered!), and a sharp goat milk cheese similar to the local Valençay.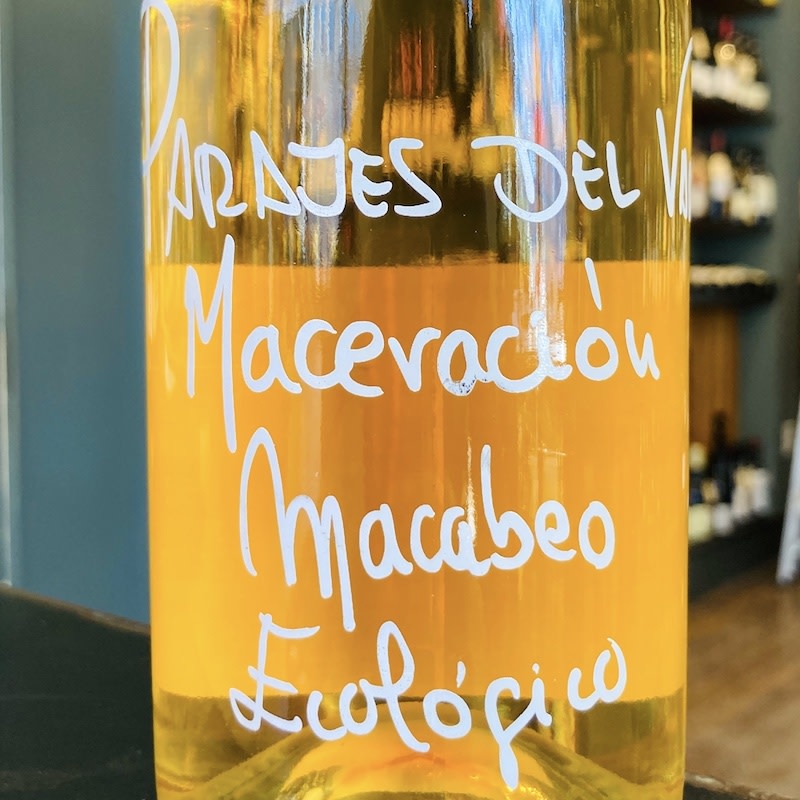 2021 Parajes del Valle Maceraciòn Macabeo Ecologico
variety: macabeo
appellation: Manchuela, Spain
organic, vegan
Winemaker Maria Jover, who honed her craft at Vega Sicilia before she returned to her native Levante, produces wonderfully fresh wines from the parched vineyards in and around Jumilla. Since its beginning just ten years ago, the winery has focused efforts on preservation of the Terraje farming system, whereby landholders rent their vineyard to the farmers, ensuring care and respect for the vines in return for a small percentage of production, in this case about 7%. While nearly all of the 80-90 year old vines in Jumilla are currently farmed in this manner,  the future is less certain; as many landowners are advancing changes that would increase the productivity of the vines. Parajes del Valle is committed to ensuring that the Terraje system is preserved, ensuring the higher quality old vine fruit and higher pay for those tending the vines. While the vast majority of her production is red from monastrell, here we have our first look at a skin-macerated white (orange wine) made from macabeo, which is widely planted throughout Spain and southern France. Peaches, almonds, and oolong tea pervade and suggest pairing with the best version of Mediterranean fare you can arrange in this cold heart of winter in New England.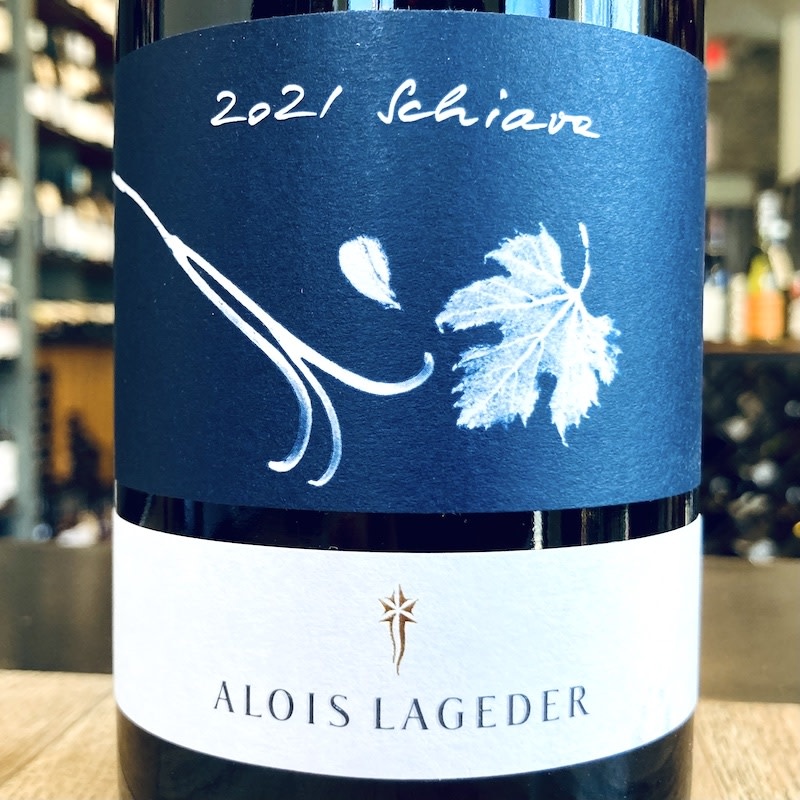 2021 Alois Lageder Schiava
variety: schiava
appellation: Alto Adige, Italy
biodynamic
2023 will mark the 200th year that the Lageder family has been practicing the wine trade in Alto Adige. It's currently run by the fifth and sixth generation (Alois Lageder IV and his son Alois Clemens) who oversee the estates' 55 hectares of biodynamically farmed vineyards. They also purchase fruit from a network of local organic growers for their "Terra Alpina" portfolio of wines (we've had their Pinot Grigio on our shelves lately). The family has long been a proponent of biodiversity in winemaking and is working with those local growers to fully convert to biodynamic farming in the next 5-10 years. If you're unfamiliar with schiava then this will serve as a proper introduction. It used to be the most planted grape (along with other reds such as lagrein) in Alto Adige in the 1970s but gradually white grapes began to dominate the export market and today account for 2/3rds of production. However, schiava is beginning to make a comeback and you'll see why after you pop this bottle. Dry, light/medium bodied with juicy fruit, floral aromas and soft tannins, it's a versatile wine. At an easy-going 11.5% abv, it would be enjoyable as an aperitif or paired with some Thai takeout. If you're feeling fancy, get a cheese board going and don't forget the speck! For further info, we recommend their YouTube channel which offers more insight into their winemaking philosophy/practices and absolutely gorgeous views of their estate.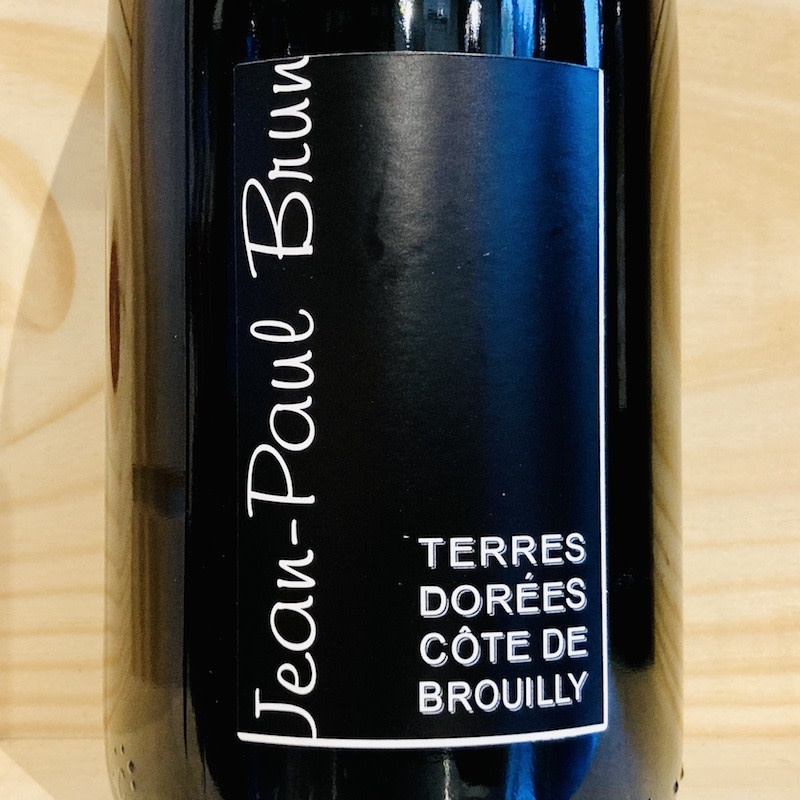 2020 Jean-Paul Brun "Terres Dorées" Côte de Brouilly
variety: gamay
appellation: Côte de Brouilly (Beaujolais), France
organic, low sulfur
Jean-Paul Brun made his first vintage of wine in 1977, after convincing his father not to sell their grapes to the local cooperative. His journey began with just four hectares of gamay vines on his father's mixed farm in Charnay, a small town outside of Lyon in the southern part of Beaujolais. Domaine des Terres Dorées now encompasses 60+ hectares of vines (gamay, chardonnay, pinot noir, and roussanne), mostly in the limestone and clay soils of the south along with a number of plots in the granitic northern crus. Rather than the whole cluster semi-carbonic method popular in the region, Brun prefers a more Burgundian style fermentation: hand sorting of fruit, de-stemming, and allowing slower ferments using only indigenous yeasts and minimal S02 additions (less than 1 gram in this case!). The Côte de Brouilly was Jean-Paul's first cru bottling, from 50-60 year old vines grown on the slope of an old volcano. Graceful and easy drinking with a tantalizing balance of fruit, mineral, and spice, this is a wine you can enjoy now or in a few years, on its own or at the table!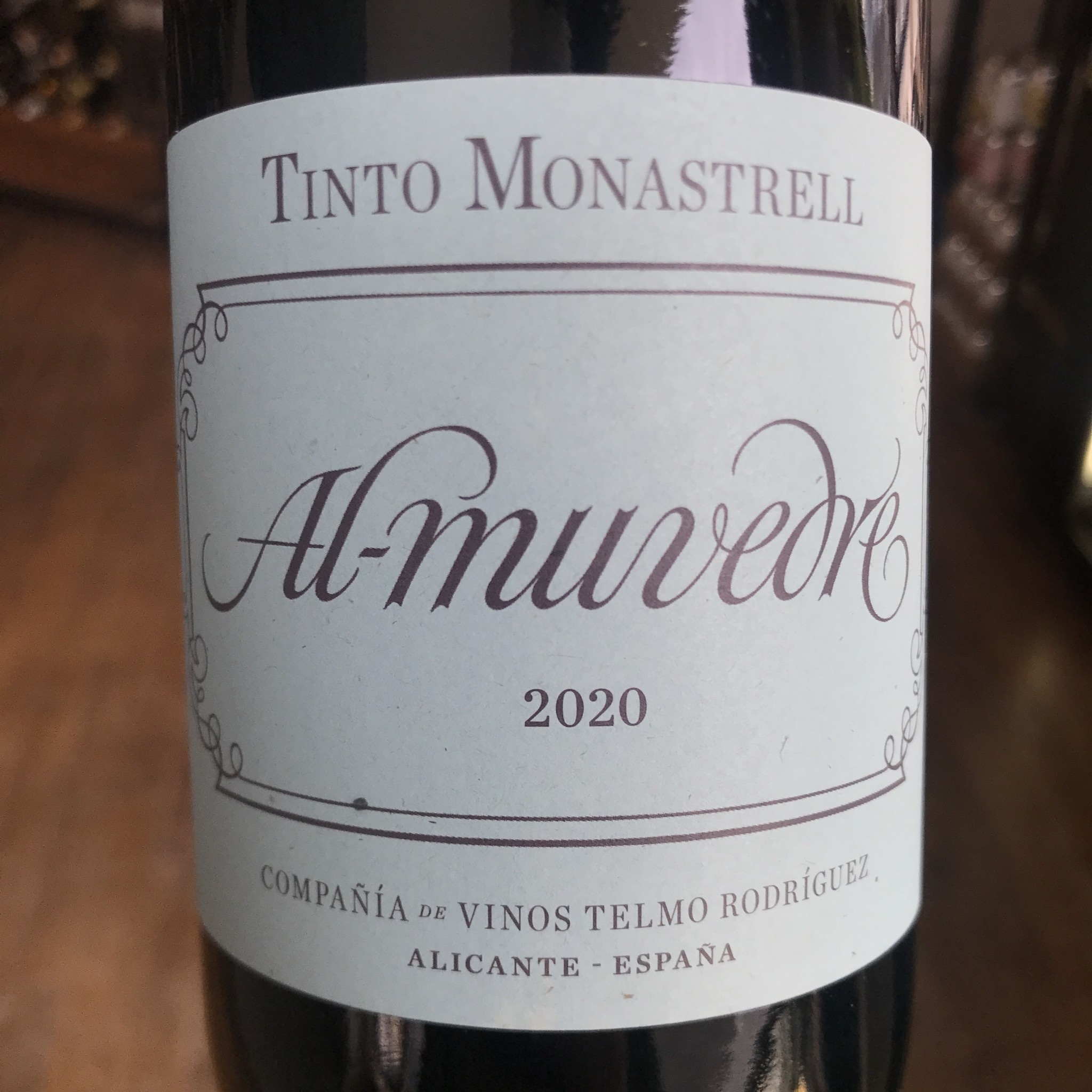 2020 Telmo Rodriguez "Al-Muvedre"
variety: monastrell (mourvèdre)
appellation: Alicante, Spain
It's impossible to summarize the work of winemaker Telmo Rodriguez. He owns or manages vineyards and wineries throughout northern Spain, stretching from Galicia in the west to his homeland of Rioja. With hundreds of distinct vineyards, 80+ hectares in total, dozens of native grape varieties, and wildly diverse regions with which to work, it's... a lot. With a prodigious work ethic, the soul of the traveler and the self-restraint of a child, it should surprise nobody that Telmo found his way to monastrell from Alicante, on the tip of the president of the International Wine Academy. While his original intent was to find an old estate to renovate, he settled on producing "...a good, simple wine, as in the days of the wine traders." His fruit is sourced from two villages, most notably Monovar, the site of the ultra-traditionalist Primitivo Quiles. While this is every bit the rustic red at its core, it bears the Telmo signature of freshness and tension.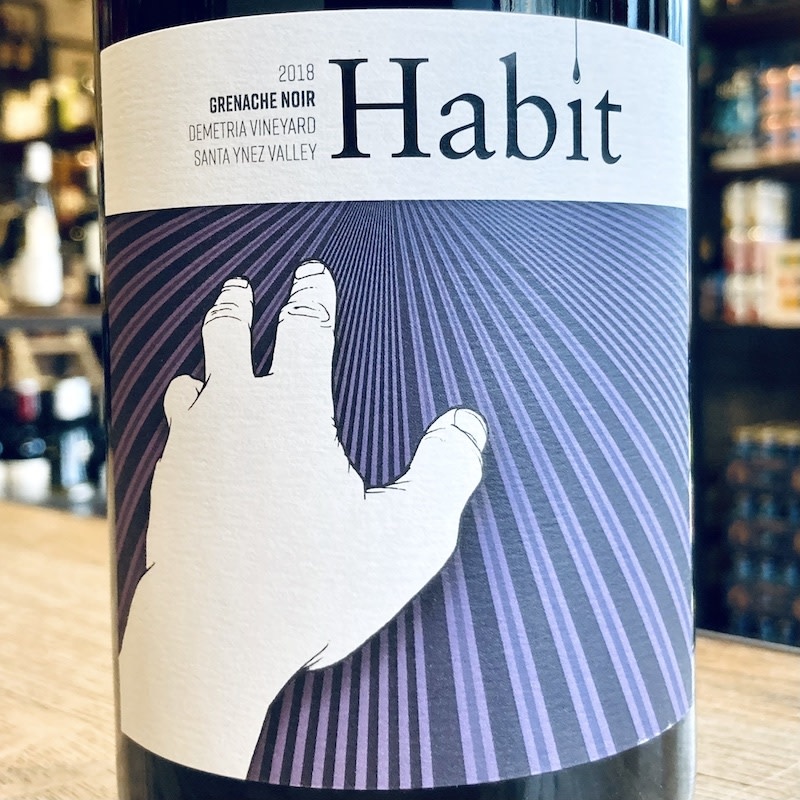 2018 Habit Grenache Noir
variety: grenache
appellation: Santa Ynez Valley
organic, biodynamic
Jeff Fischer is the sole proprietor and winemaker for Habit, which he founded in Los Olivos in 2008, after years of making wine in his garage in Los Angeles. His first vintage was just three barrels of the Red Blend. Habit now produces seven different wines from seven different vineyards in Santa Barbara County. Fischer's wines focus on high acidity, lower alcohol, and strive to showcase varietal character. All of the vineyards are sustainably- or organically-farmed and managed by the same vineyard management team with which he works closely. The fruit is picked and sorted by hand, and fermentations take place with both native and indigenous yeasts. Reductive winemaking techniques, punchdowns only by hand, and extended lees contact up until bottling keep the wines bright, fresh, and clean. This grenache hails from the Demetria Vineyard in Santa Ynez Valley, which is farmed biodynamically and organically. It clearly takes its cues from the southern Rhone (Chateauneuf-du-Pape, etc), and is especially appealing with hearty winter roasts and stews.