Welcome to the latest installment of the Streetcar Monthly Pass. If you've already purchased a pass, thank you! If you haven't, you should check out this page to learn how it works. Below you'll find some information about each of this month's six Monthly Pass selections. On to the wines!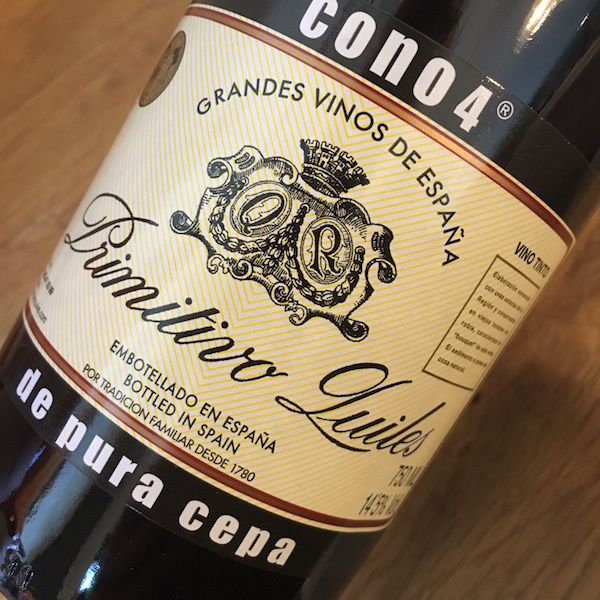 2018 Primitivo Quiles Alicante "Cono 4"
appellation: Alicante
grape variety: monastrell (mourvèdre)
(the 2014 vintage was featured in the pass in September 2016)
Primitivo Quiles is the oldest wine producer in Alicante, and one of the great survival stories in Spanish winemaking. Don Primitivo Quiles established his vineyards and winery in 1780 and has passed the operation along from one Primitivo to the next, generation after generation, to the present day. The Alicante appellation is most famous (was most famous) for Fondillon, a solera-based rancio wine made from monastrell that was revered by monarchs and other rich people all over Europe in its heyday. "Cono 4" is certainly a more modern phenomenon, though its aging in 80-year-old conical foudres recalls some of the aromatics of Fondillon. It's a hearty, full-throttle red that would be right at home with a steak.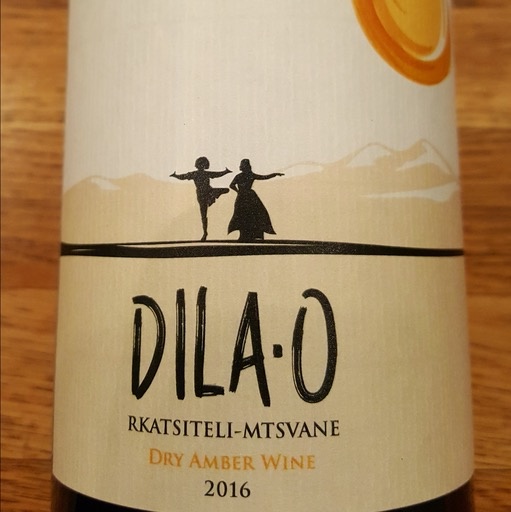 2019 Dila-O Amber Wine

appellation: Georgia
varieties: rkatsiteli, mtsvane
(The 2016 vintage was featured in the pass in December 2018)

Considered the birthplace of wine, Georgian wine traditions are fascinating, and old - nearly 8,000 years old to be exact! One of the hallmarks of Georgian winemaking is the large clay jar called "quevri' used for fermentation and aging. They are submerged in the ground, lined with beeswax, and used for both reds and whites alike. This white is a 50/50 blend of native varieties rkatsiteli and mtsvane that is made in a lighter "orange" style and sees just one month of skin contact in the quevri before being transferred to stainless steel tanks. Soft tannins and an appealing bouquet of melon and cantaloupe make for the perfect entry to the world of traditional orange wines. Because Dila-O is a more structured white wine, enjoy with an oily fish like Salmon or roasted chicken or pork dish.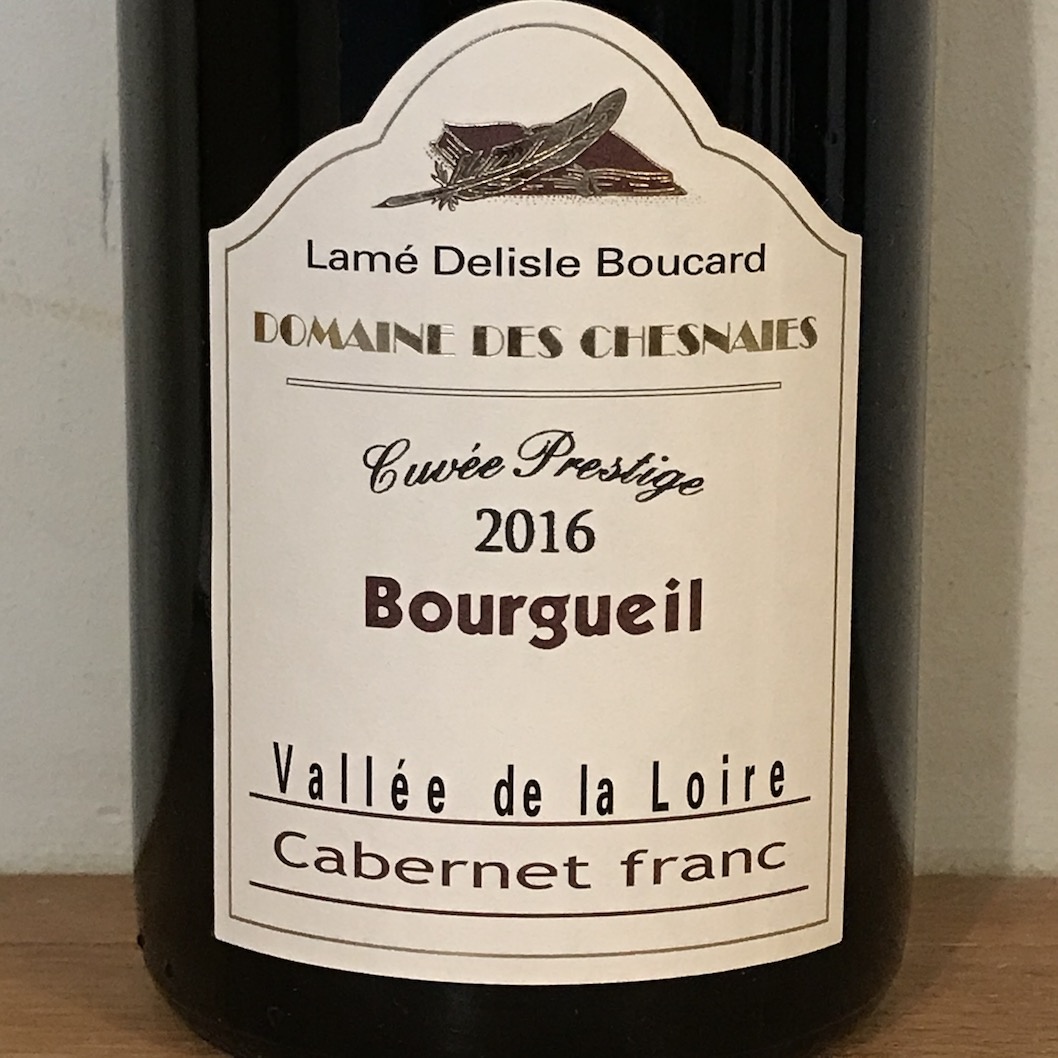 2016 Lamé Delisle Boucard - Domaine des Chesnaies "Cuvée Prestige"

appellation: Bourgueil (Loire), France
grape varieties: cabernet franc
(The 2013 vintage was featured in the pass in May 2017)
Pierre Guyot established this estate in 1869 with his son-in-law Jules Lamé, who was the first in the region to graft non-phylloxera vines in the 1870's. Fast forward five generations, siblings Phillipe and Stephanie now manage the family's property in Bourgeuil, exploring all the possibilities for the production of cabernet franc. The various cuvées are divided along soil types - all fruit grown on gravel is vinified in stainless steel to preserve its fruitiness and soft tannins, while the fruit grown on clay/limestone soils is reserved for barrel vinification to extract more tannins.  This cuvée is from the former, and is delightfully fruity and bright - a true bistro wine. Pair with roasted chicken and spring potatoes, or a nice hunk of aged goat's milk cheese.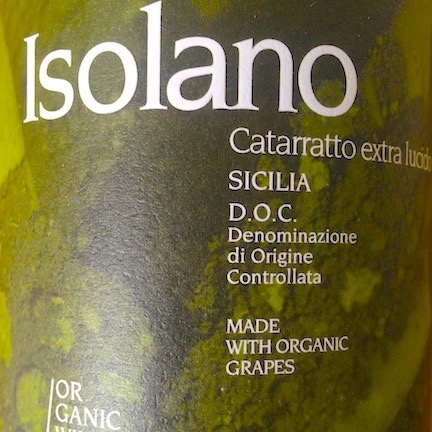 2019 Valdibella "Isolano"

appellation: Sicilia, Italy
grape variety: catarratto extra lucido
(The 2013 vintage was featured in the pass April 2015)

Valdibella was started by a small community of wine, olive, and almond farmers as a social experiment. They are one of the first members of the Addiopizzo organization, whose main goal is to reestablish the dignity of small businesses of Sicily by refusing to pay racket to the island's ubiquitous mafia. To put this into perspective, somewhere close to 80% of Sicily's commercial enterprises pay the pizzo. Further, the father of one the growers at Valdibella, a doctor with strong community ties, was executed by the a member of the Mafia. Companies like Valdibella demonstrate immense courage by committing to this movement, at great personal risk for all those involved. All this said, the organic wines produced by Valdibella represent some of the best values from anywhere these days. Isolano is a selection of a lighter-skinned variant of catarrato, easily recognizable in the vineyard as they seem to glow in the sunlight. It's great on its own as an apéritif, or try it with mezze or garlicky shellfish.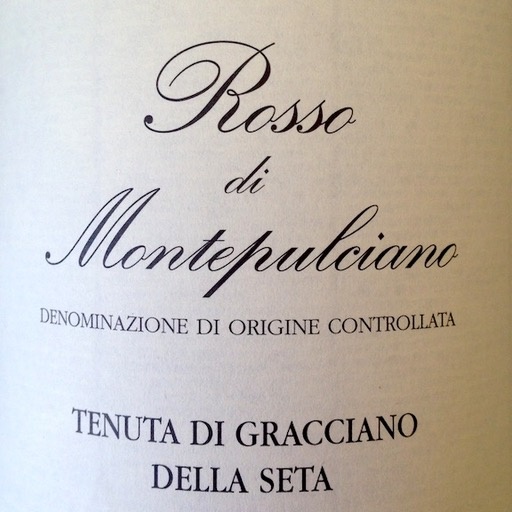 2019 Tenuta di Gracciano della Seta Rosso di Montepulciano
appellation: Montepulciano, Italy
grape varieties: prugnolo gentile (sangiovese), merlot
(The 2013 vintage was featured in the pass in March 2015)
The Setta Ferrari Corbelli family have owned the historic Villa Svetoni and its surrounding vineyards since the mid 1900's, but the property has been well known for its wines produced in the Gracciano hills for centuries. Though the name is understandably confusing, the wines of Montepulciano are not made from the montepulciano grape - which is widely grown in Abruzzo, south east of Tuscany. Prugnolo gentile is the local name for the clone of sangiovese grown around the village of Montepulciano in the easternmost section of Tuscany, near Siena. The appellation's most famous wine, Vino Nobile di Montepulciano, is required to spend at least two years in barrel, just as in Chianti Classico Riserva and Brunello di Montalcino. The Gracciano Rosso is made from the same fruit used for the the estate's highest wines, but only spends about eight months in barrel before bottling. It is soft and smooth with chewier, darker cherry fruit than sangiovese from Chianti. This red pairs nicely with aged pecorino and salami of cinghiale (wild boar)- a speciality of Tuscany, and Montepulciano in particular.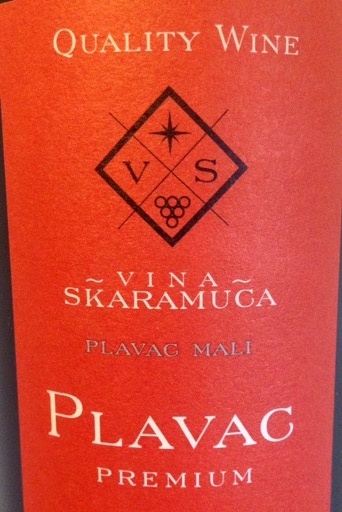 2018 Vina Skaramuca Plavac

appellation: Dingac, Croatia
grape varieties: plavac mali
(The 2013 vintage was featured in the pass in December 2015)
It seems we still have a lot to learn about Croatia! By now at least some of you are familiar with another Dingac Plavac that we've featured here, and was featured as the show-stopper in the Boston Globe's Plonk-a-palooza article a couple years back. Vina Skaramuca is a small, family-owned winery making a lineup of wines from the steep slopes of Dingac, on the southern tip of the Peljesac Peninsula, off the southern mainland Croatian coastline. As we've covered before, it was recently established that plavac has a parent-sibling relationship with zinfandel, much to the surprise of many a fan of Italian primitivo (no relation). Of course Dingac Plavac bears little resemblance to Lodi zinfandel. This wine's characteristic salinity and dark vegetal aroma complement its rich fruit, and make it a fun wine to pair. Legumes, squash, za'atar? Tuna, sesame, wasabi? Lots of possibilities.