Welcome to the latest installment of the Streetcar Monthly Pass. If you've already purchased a pass, thank you! If you haven't, you should check out this page to learn how it works. Below you'll find some information about each of this month's six Monthly Pass selections. On to the wines!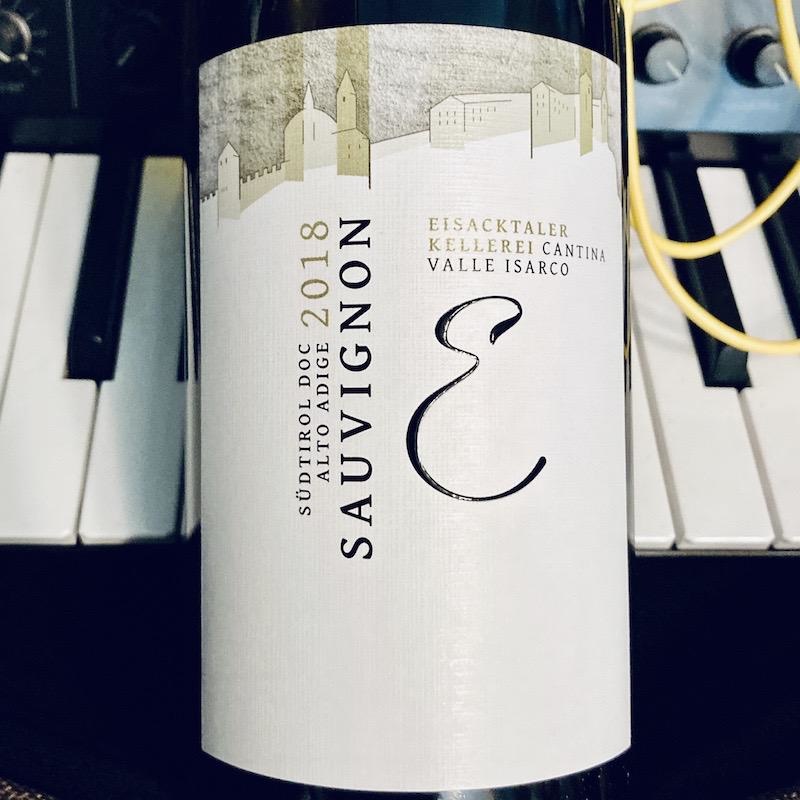 2018 Eisacktaler Kellerei Cantina Valle Isarco
appellation: Alto Adige (Sudtirol), Italy
variety: sauvignon blanc
The Alto Adige's situation deep into the Tyrolean Alps and into the Germanic cultural surroundings is a reminder that this stretch of northern Italy has more to do with Vienna than Florence. Winemaking here is a heroic undertaking, making it clear why cooperatives are the norm. Managing a vineyard of steeply terraced vines means working entirely by hand, limiting most vineyard owners to one or two hectares, and a crop too small to commercialize alone. Eisacktaler Kellerei is a beautifully modern and immaculately managed facility owned by its 130-or-so farmers scattered throughout 11 municipalities, with a full range of local varietal wines. Sauvignon was brought to Alto Adige about 100 years ago (though more recently to the Valle Isarco), and this example furls its fresh pea tendrils around a rocky mineral backbone. Not Loire, not New Zealand, distinctly Tyrolean sauvignon, and a beautiful pair for pasta with speck or a fresh salad with goat cheese.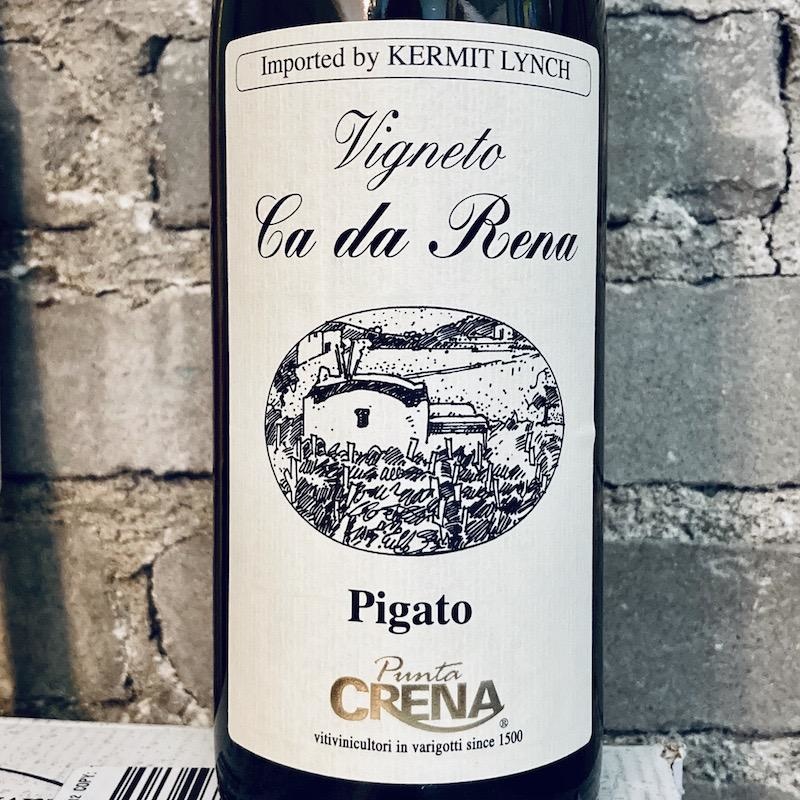 2017 Punta Crena "Ca da Rena"
appellation: Riviera Ligure de Ponente (Liguria), Italy
variety: pigato
organic
Near the pitturesque seaside village of Varigotti lie the vineyards of Punta Crena. Named for a large promontory jutting into the sea, the vines are within 1200 meters of the water and enjoy sea breezes that keep the grapes happy and healthy. The Ruffino family has been tending these vineyards for over 500 years and takes great pride in working with native, ancient Ligurian grape varieties. Today the estate is run by four siblings: Tommaso, the eldest, is the winemaker; Paolo is the salesman; Anna handles logistics, and Nicola helps out in the vineyards and winery. Pigato is a genetic variation of vermentino that developed around the 18th century and was probably named for its pighe —"freckles" in the local dialect, referring to its spotty skin. The wines of Punta Crena are inseparable from Ligurian cuisine, so strongly consider any manner of pesto, or frito misto taking advantage our local bounty of fresh seafood.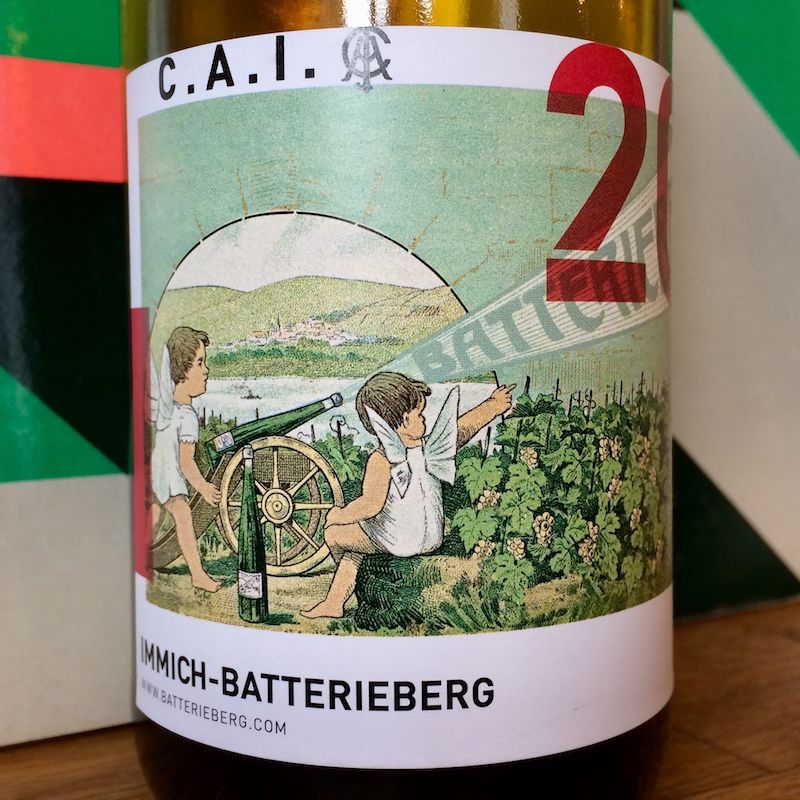 2017 Immich-Batterieberg Riesling Kabinett Trocken "C.A.I."
appellation
: Mosel, Germany
variety
: riesling
Immich-Batterieberg is one of the oldest wineries in the Mosel, originally founded by a Carolingian monastery whose roots can be traced back to the year 911. In 1495, the Immich family purchased the property, producing traditional dry and off-dry wines under their name for almost 500 years. The estate was acquired in 2009 by Gernot Kollmann. Gernot is one of Germany's finest winemakers, having worked at Dr. Loosen and Weingut Van Volxem. The name "C.A.I" is a tribute to Carl August Immich, whose decision it was to dynamite this hill between 1841 and 1845 to create terraces and plant vines. A regular at Streetcar lovingly dubbed this wine "baby cannon" for label's iconic depiction of the scene of demolition. The wine is vibrant and fruity, yet searingly dry, with notes of apple, peach, and nectarine. Absolutely thirst-quenching on a hot and humid summer afternoon, baby cannon is ready to help you destroy any plate of food.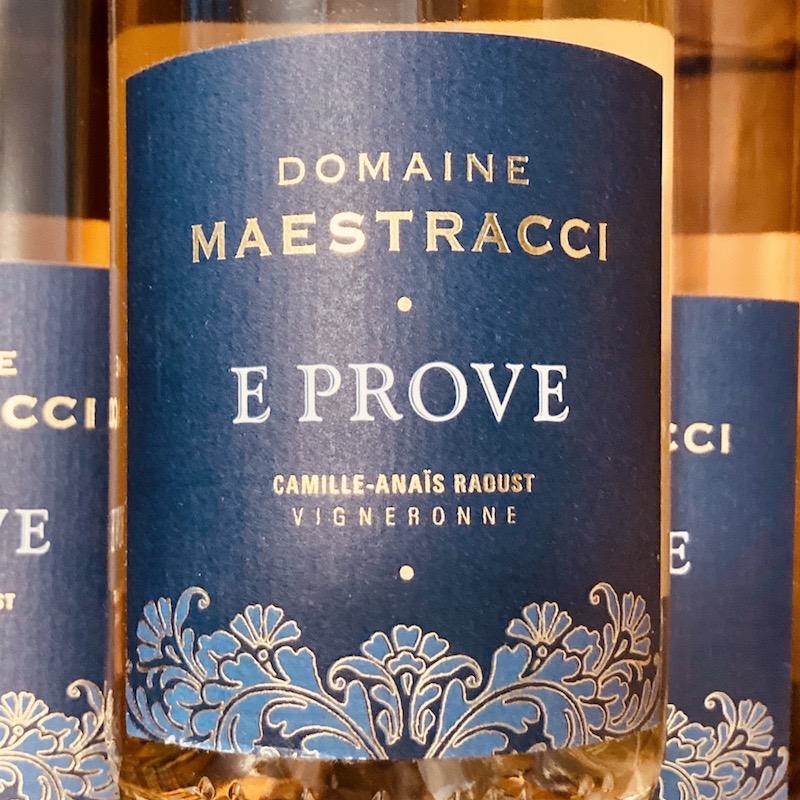 2018 Domaine Maestracci "E Prove" Rosé
appellation: Corse Caliv (Corsica), France
varieties: nielluccio, sciacarello, grenache
practicing biodynamic
High in the foothills of Monte Grossu mountain, inland from Calvi, lies the granite plateau of Reginu, an area long known for U Vinu di E Prove – the wine of the Prove, as the micro-climate is known. The particularity of the plateau is the exposition to hot and dry daytime temperatures with high altitude cool nights, all within a short distance from the sea and regular maritime winds. The plateau has been continuously used for vine and olive growing for centuries, and was once the site of a major olive pressing operation that supplied a large part of France with its olive oil. In 1945, when the owner of the olive oil mill packed up and moved his operation to colonial Algeria in search of bigger land and greater profits, Roger Maestracci saw a golden opportunity and moved in. Within a few years, the domaine had established a firm reputation in the area, and when it came time for Roger to retire in the early 1980's he passed along the reins of the domaine to his son-in-law, Michel Raoust, who has since handed over the winemaking and winery management to his daughter, Camille-Anaïs Raoust. While many have capitalized on the international resurgence of rosé, hers comes from vines averaging 45 years of age, providing a depth of extraordinary depth of character.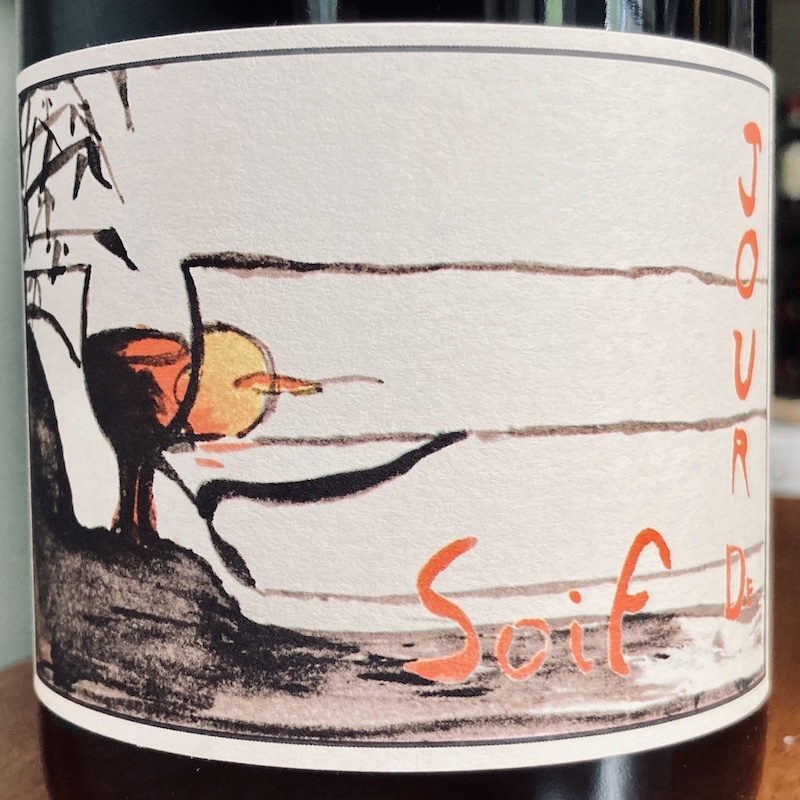 2018 Domaine du Bel Air "Jour de Soif"
appellation: Bourgueil (Loire), France
variety: cabernet franc
organic
Domaine du Bel Air, a small family winery headed by father-son duo Pierre and Rodolphe Gauthier. The Gauthiers have long practiced methods that respect the land and the surrounding terroir. They received official organic certification in 2000. Their 18 hectares of vineyard average 30 years of age, and some are as old as 80 years. They prune by hand, practice green harvesting to keep the crop low - mostly under 40 hectoliters per hectare. "Jour de Soif" has a lively nose that jumps right out of the glass with aromas of black cherries and dark chocolate. The palate is full of tart red fruit, black pepper, and pleasant wet earth. Anything you want char up on the grill will pair nicely with this cabernet franc.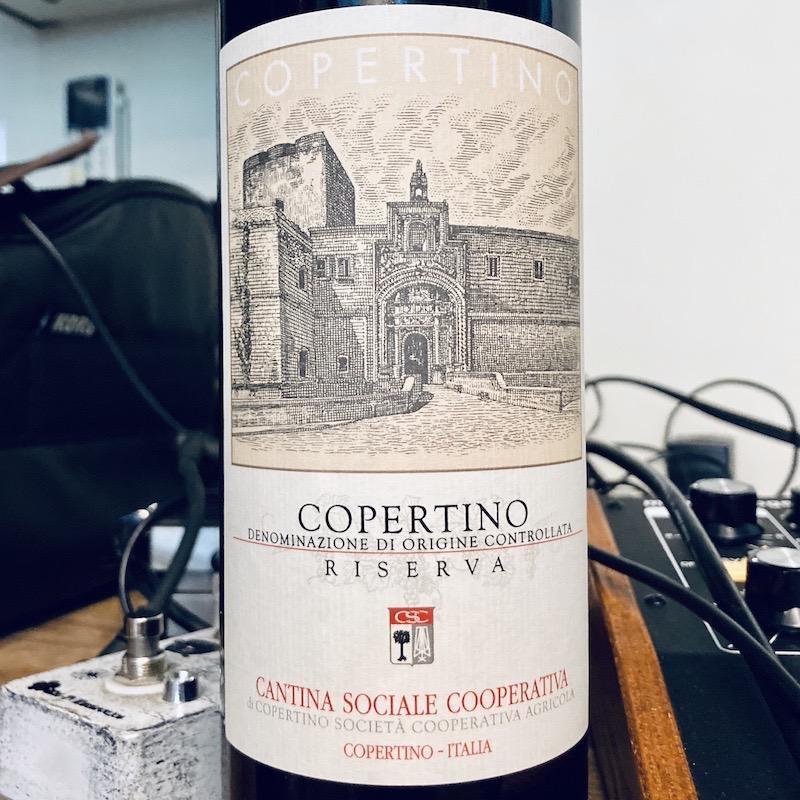 2010 Copertino Riserva
appellation
: Copertino (Puglia), Italy
varieties
: negroamaro, malvasia nera

The Copertino Cooperative was established in 1935, when a group of growers from a tiny town in the heart of the Salento peninsula's wine-growing region decided to produce high quality wine from their traditional indigenous grapes. The efforts of these visionaries help establish the DOC Copertino in 1976. This wine is released at the winemaker's discretion, in this case nearly a decade after harvest, most of that time spent in bottle. Few wines so adequately encapsulate the wines of a an entire appellation as well as this one. Pop this with burgers, pizza, or chicken/eggplant parm.