Welcome to the latest installment of the Streetcar Monthly Pass. If you've already purchased a pass, thank you! If you haven't, you should check out this page to learn how it works. Below you'll find some information about each of this month's six Monthly Pass selections. On to the wines!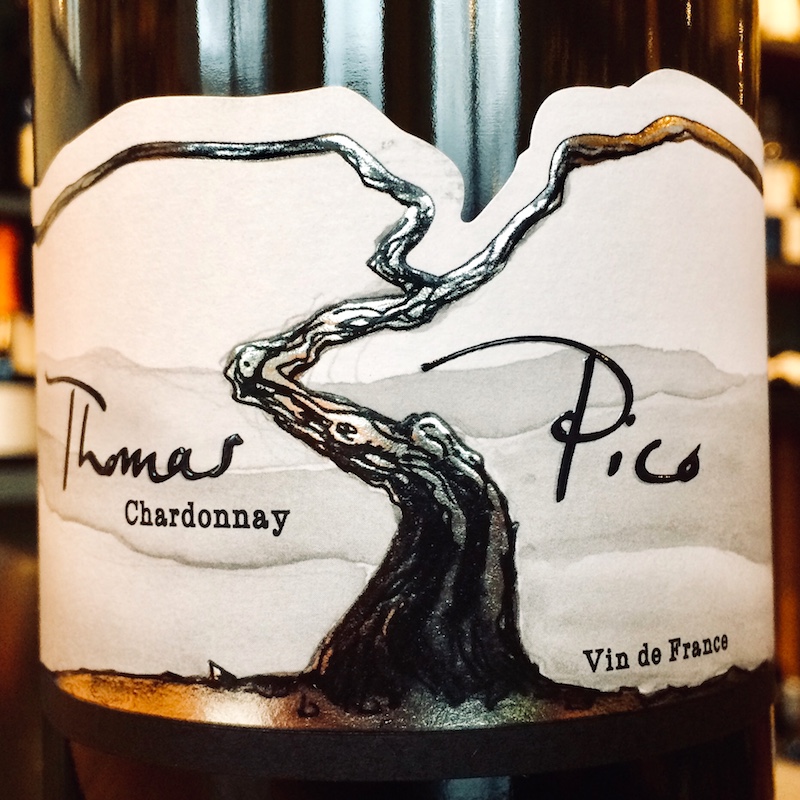 Thomas Pico Chardonnay
appellation: Vin de France
variety: chardonnay
Imagine this: in ten vintages, you've taken your family's property from total obscurity to among the most exciting, emergent producers in Chablis, only in 2015 to have essentially your whole crop wiped out by hailstorms. Thomas Pico refused to have his momentum killed, and like a lot of northern producers in the last few years, looked to friends in the south for fruit. Pico managed to assemble some organically-grown chardonnay from friends scattered across southern France (Limoux, Rhone, Cahors) to vinify at his home in Courgis, and this wine is the result. Somehow, despite the wine's quasi-Dadaist origins, it feels somewhat Chablisienne in its tension and vivacity. Credit Pico's friends for the quality of their fruit, and Pico's talents and decision-making in the winery, which must have been difficult, given the novel circumstances. We choose this wine to celebrate the first real signs of spring, whatever day they poke their electric green tendrils out of the mud.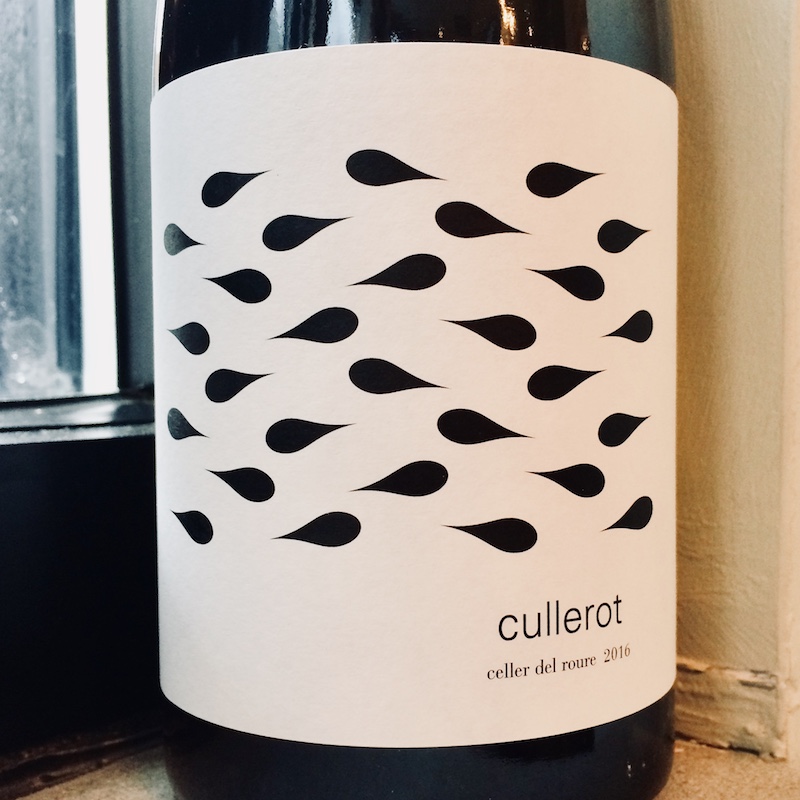 2016 Celler del Roure "Cullerot"
appellation: Valencia, Spain
varieties: mando, verdil, macabeo, pedro ximenez, chardonnay
Pablo Calatayud established his estate, Celler del Roure, on the foundations of an ancient mixed-use farm in the village Moixent where he grew up, just outside Valencia on Spain's eastern coast.  It took years of research to restore the farm's vineyards, planted to various local varieties like verdil, mando, tortosina, as well as its expansive subterranean cellar, complete with buried clay amphora dating from the 17th century. He continues to use these vessels today, as well as the stone vats where the grapes were traditionally crushed by foot. This cuvée, whose name translates to "tadpole", is a five-variety blend that spends six months in amphorae on its fine lees. The result is a fantastically silky white, with bright aromas and clean finish. Try pairing with a whole fish baked in salt.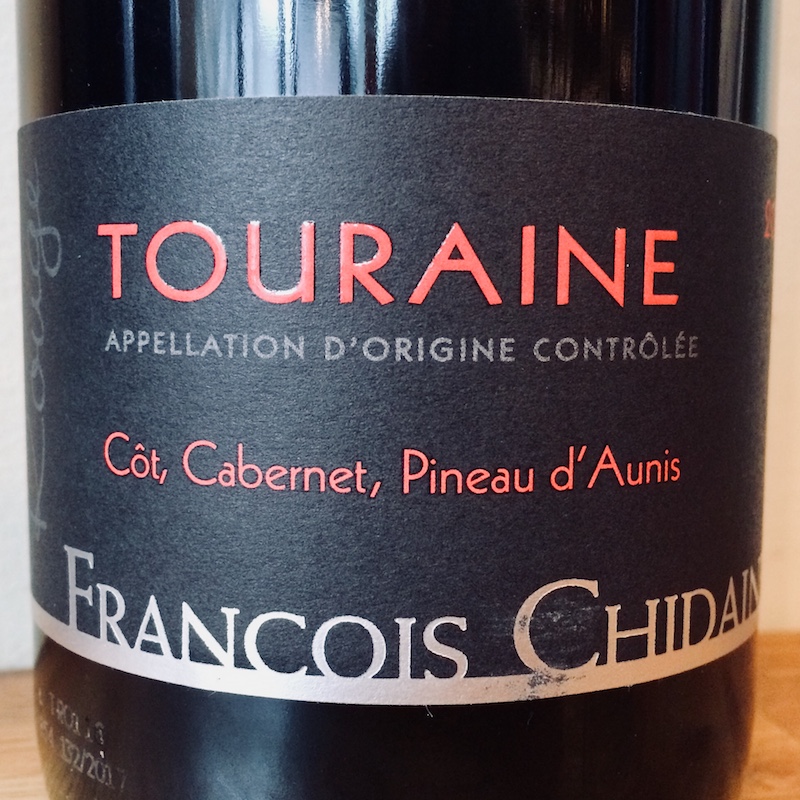 2016 Domaine François Chidaine Touraine Rouge
appellation: Touraine
varieties: côt (malbec), cabernet franc, pineau d'aunis
After working alongside is father for many years, François Chidaine established his own estate with a few hectares of chenin blanc in Montlouis-sur-Loire in 1989. Since then, his estate has grown to include 10 hectares in Vouvray, just across the river, and 7 hectares farther east in Chissay, where he grows his red grapes. He has been Demeter certified for biodynamic farming since 1989, though you won't find any mention of it on his bottles. This bottle comes from his holdings in Chissay, and is made of equal parts côt (the local name for malbec), cabernet franc, and pineau d'aunis - a Loire native with overt peppery aromatics. Bright and chewy with all kinds of pepper and slate, this is a classic bistro-style red that fits on the table with all sorts of cuisine. Try with a young Loire Valley goat's milk cheese like Valençay for a real treat.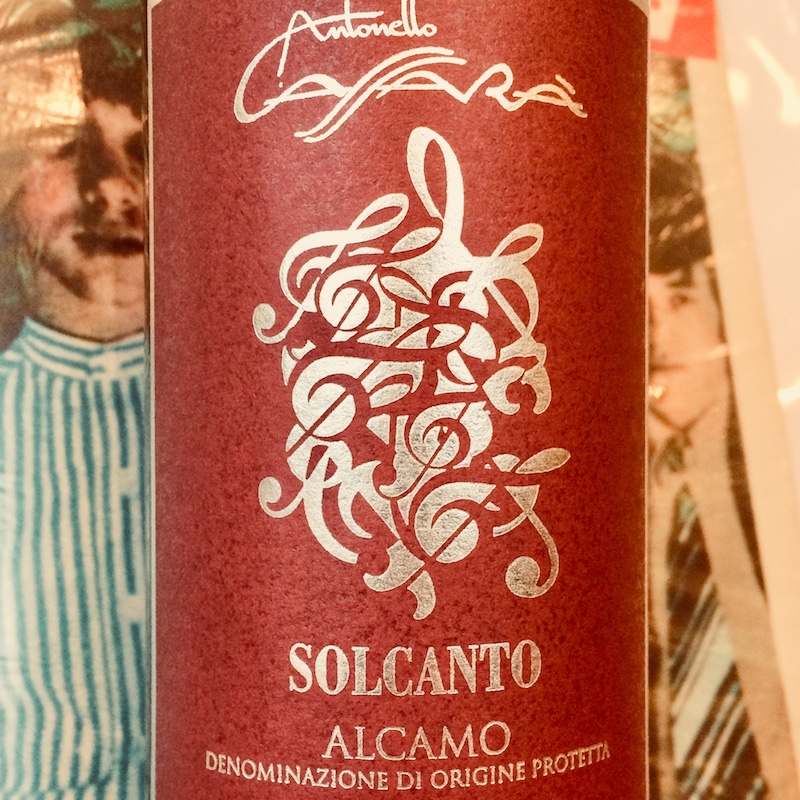 2015 Antonello Cassarà "Solcanto"
appellation: Alcamo
variety: nero d'avola
The Alcamo appellation is an hour southwest of Palermo, in the northwestern corner of Sicily. Rolling hills, endless sunshine, and cooling breezes off the Mediterranean make this region perfect for agriculture, in fact, Alcamo was central in the industrialization of wine production on Sicily after phylloxera devastated much of Europe. Antonello's grandfather Rocco began this project with the desire to rewrite that history, with wines that are made of local grapes, like grillo, cataratto and nero d'avola, grown organically, and produced by hand. This nero is full of fiery Sicilian fruit and spice, a good example of how gutsy and warm this variety can be. Pair with a plate of caponata and sheeps milk cheese, or spicy fresh sausages on the grill (remember that thing?).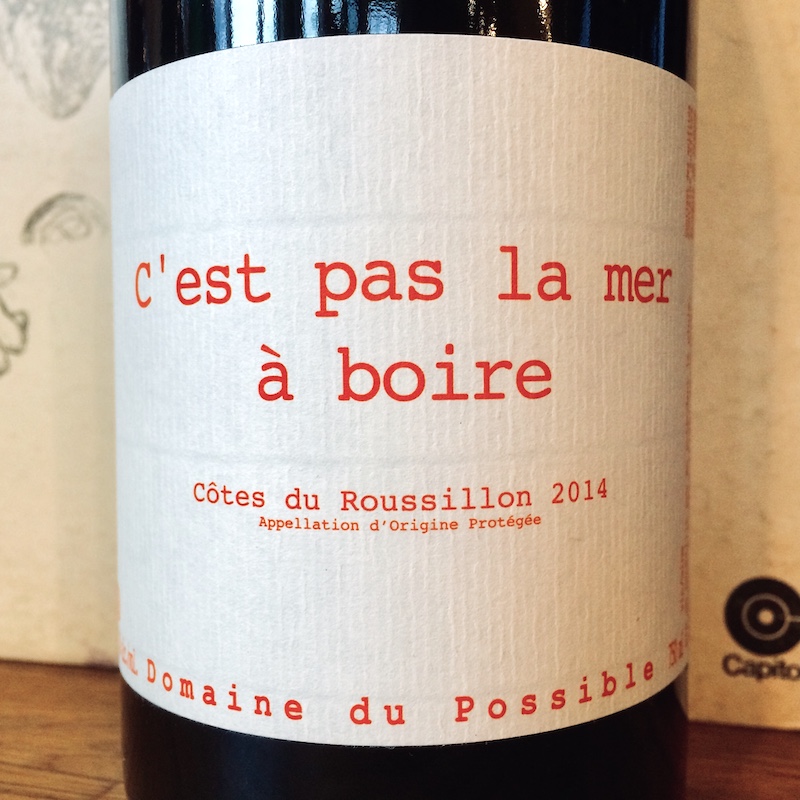 2014 Domaine du Possible "C'est pas la mer à boire"
appellation: Côtes du Roussillon
varieties: grenache, carignan
Nestled in the tiny village of Lansac, Domaine du Possible is the brainchild of Loïc Roure. In 2003, Loïc scrapped his initial plan of opening a restaurant/ wine bar/ retailer, deciding instead to start his own estate. Today he farms just under 10 hectares of vines on the rugged, wild hillsides of the Eastern Pyrenees, making his wines and his home in the restored old cave cooperative of Lansac. His focus is mainly grenache and carignan, which he farms biodynamically. Loïc has a light touch in the cellar, making bright, generally lower-alcohol wines that are bright and fruit-focused, with natural fermentations and little to no additions of sulfur. This cuvée, whose name translates literally to "it's not the sea to drink", to mean roughly "it's not rocket science", is 60% grenache, 30% carignan, and 10% mourvedre. A portion of the fruit is foot trodden, and then more clusters are added, resulting in a semi-carbonic maceration, yielding a soft, bright palate without too much tannic extraction. Pair with a hunk of brebis, locally made sheep's milk cheese, and some black cherry jam.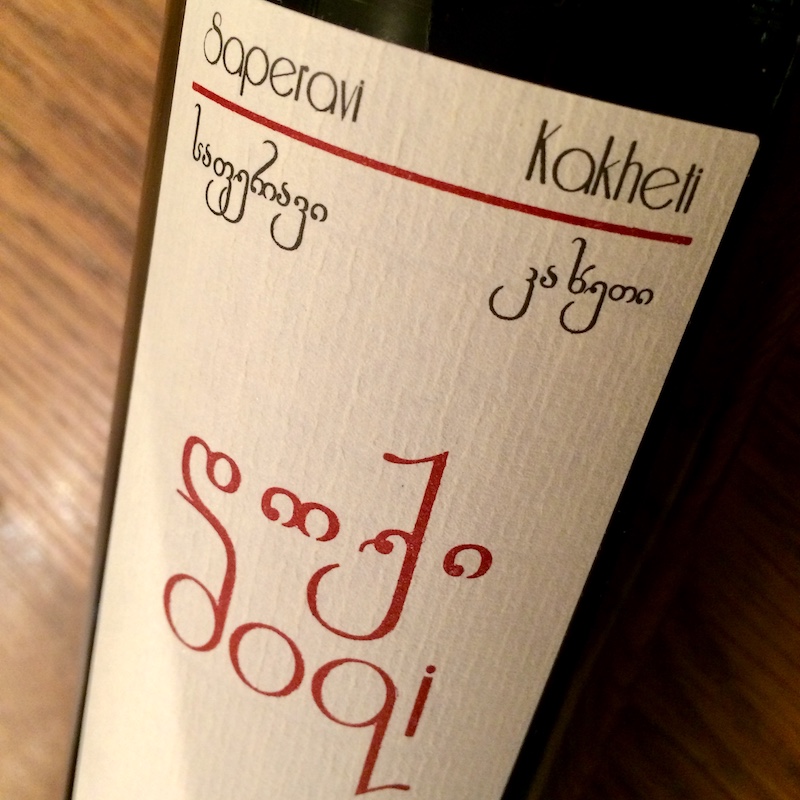 2015 Doqi Saperavi
appellation: Kakheti, Georgia
variety: saperavi
German-­born Burkhard Schuchmann founded his eponymous winery in 2008 after falling in love with Georgian wines and feeling compelled to share them on a global scale. It seems a lot of people are falling in love with Georgian wines today (including us), and for good reason. Georgia is one of the world's oldest wine producing regions, and is a veritable treasure trove of distinctive, ancient grape varieties and unique, age-old winemaking traditions. It's likely that skin macerated (orange) wine and amphorae-aging would have gone the way of the dinosaur, if not for the Georgian persistence of these traditions through thick and thin for centuries. Here we have a perfect introduction to saperavi, a new obsession at Streetcar, and one of the few red grape varieties that the color of the flesh matches the skin (teinturier). Perhaps intuitively, this results in a deeply hued, energetic, powerful red wine. This one was fermented and raised in a combination of stainless steel French barriques, and still retains the freshness and intensity of a tank sample. Pair with shish kebab or lobio, a Georgian recipe for slow-cooked kidney beans.