Welcome to the latest installment of the Streetcar Monthly Pass. If you've already purchased a pass, thank you! If you haven't, you should check out this page to learn how it works. Below you'll find some information about each of this month's six Monthly Pass selections. On to the wines!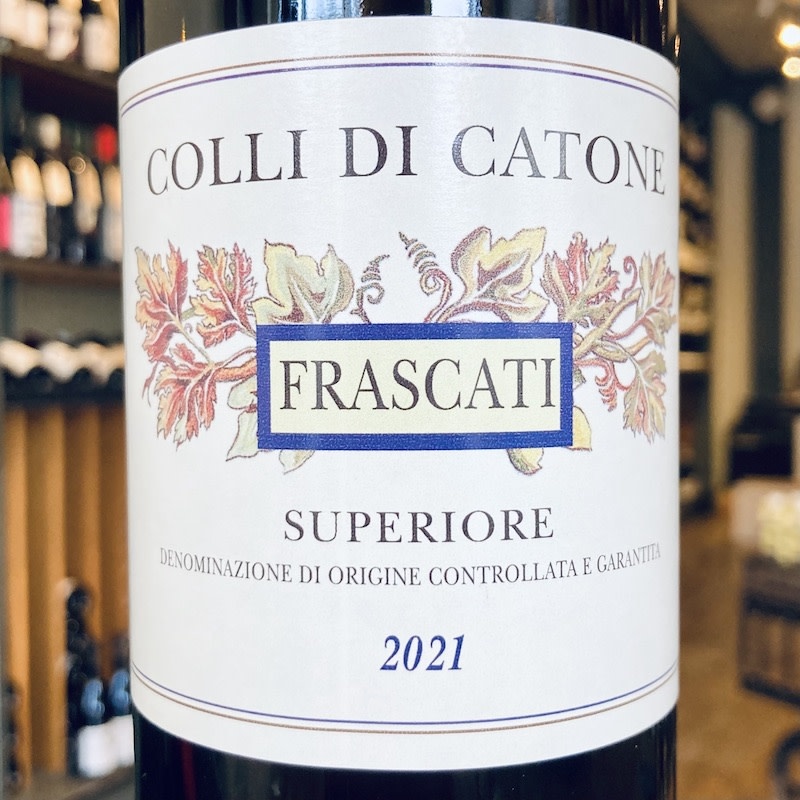 2021 Colli di Catone Frascati Superiore
varieties: malvasia del lazio, malvasia di candia, trebbiano
appellation: Frascati (Lazio), Italy
Winemaker Antonio Pulcini works in an ancient villa overlooking Rome, whose 2000 year old, catacomb-like cellar features a 300 A.D. Christian altar.  It's surrounded by vineyards planted on southwest-facing slopes of volcanic tufa soils; sites that are rich in a diverse array of minerals. Pulcini has long been an advocate for preserving the ancient grape varieties of Lazio, tearing out most of his younger malvasia di candia and trebbiano vines and replacing them with Malvasia del Lazio and Grechetto. He makes an array of wines but the best introduction to his style is his rendition of Frascati Superiore. He incorporates 40% malvasia del lazio into the conventional blend of malvasia di candia and trebbiano, and through his fastidious viticulture and famously low yields creates a wine that rises above the often frivolous whites that predominate in the region. The wine is macerated on the skins for 4-5 days with indigenous yeasts, then aged on the lees and vinified entirely in steel. The result is soft and aromatic with flavors of yellow fruit, almond and crushed rocks. Try pairing this wine with some appetizers like bruschetta or smoked fish, or go for the full Roman experience and have it ride sidecar with a big bowl of Cacio e Pepe.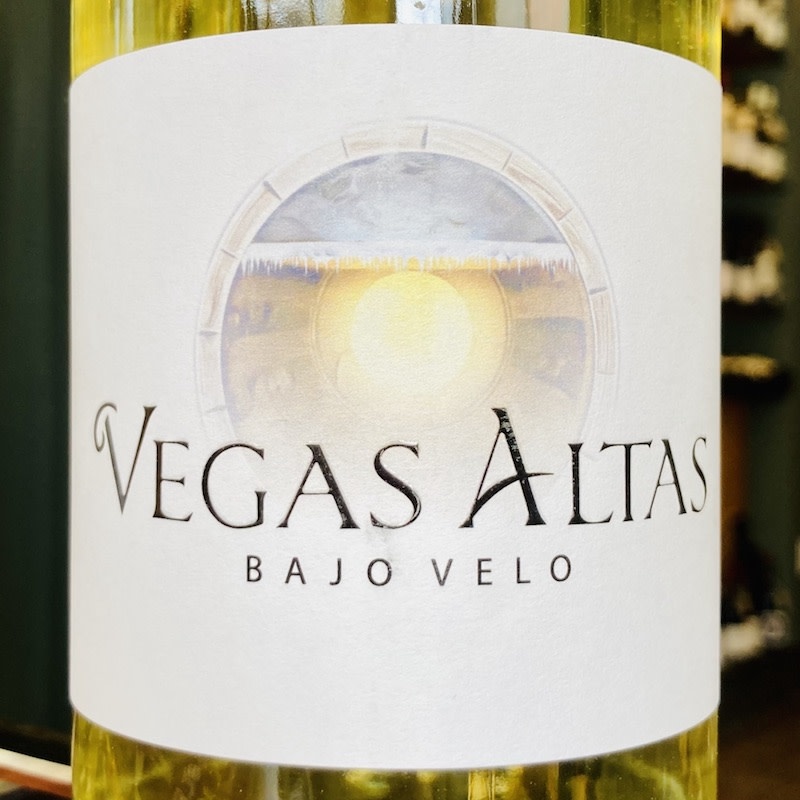 2020 Bodegas Altos de Montanchez - Vegas Altas "Bajo Velo"
variety: eva de los santos
appellation: Extremadura, Spain
organic
Vegas Altas is the primary focus of winemakers Juan Sojo and Angel Luis Gonzalez of Bodegas Altos de Montanchez, the only organic producer in Extremadura. While we've become very attached lately to their tempranillo, their offerings are quite diverse, ranging from sparkling to fortified fino, with every color of still table wine in between. This wine is made entirely from a rare local grape called eva de los santos, harvested from a vineyard of 80+ year old vines. Harvested by hand, fermentation happens with indigenous yeast in tank for 31 days. The wine is then aged "Bajo Velo" (under flor) in older oak casks for 277 days followed by cement tanks for 301 days. Bottled unfined, unfiltered, and with low to no SO2. This soft, manzanilla-style white would be great with a garlicky bean stew, jamon (of course), or tortilla española. 

2021 Isabelle & Bruno Perraud
variety: gamay
region: Beaujolais, France
organic
Isabelle and Bruno Perraud's Côtes de la Molière in Vauxrenard was established in 1987. Bruno is a sixth generation vigneron and initially farmed and made wine in the conventional (i.e. chemical inputs) method of the time. In 1999, Bruno was poisoned by an insecticide and became very ill. The couple immediately switched to organic farming, having to relearn everything in a process they describe as brutal, but vital. By 2002, they were organic certified and eliminated inputs in the wines as well. Isabelle is an outspoken feminist and has been fearless in calling out misogyny in the French wine world. This jubilant label is inspired by the Nana sculptures of French-American artist Niki de Saint Phalle, and was conceived as a response to the proliferation of sexist wine labels. 2021 was a complicated growing season in Beaujolais, with frosts, rain, and a cooler year that reduced yields significantly, but the Perrauds continue with their commitment to honest farming. The Brut de Cuve cuvée has no sulfites added, just grapes — with a soft prickle on the tongue, savory edge, peppy red fruit, and clocking in at just 11.5% abv, it's pure enjoyment! Pop it in the fridge for a few minutes before serving alongside a spread of colorful dips and crackers on a random afternoon. Day drinking and spring dreaming at its finest…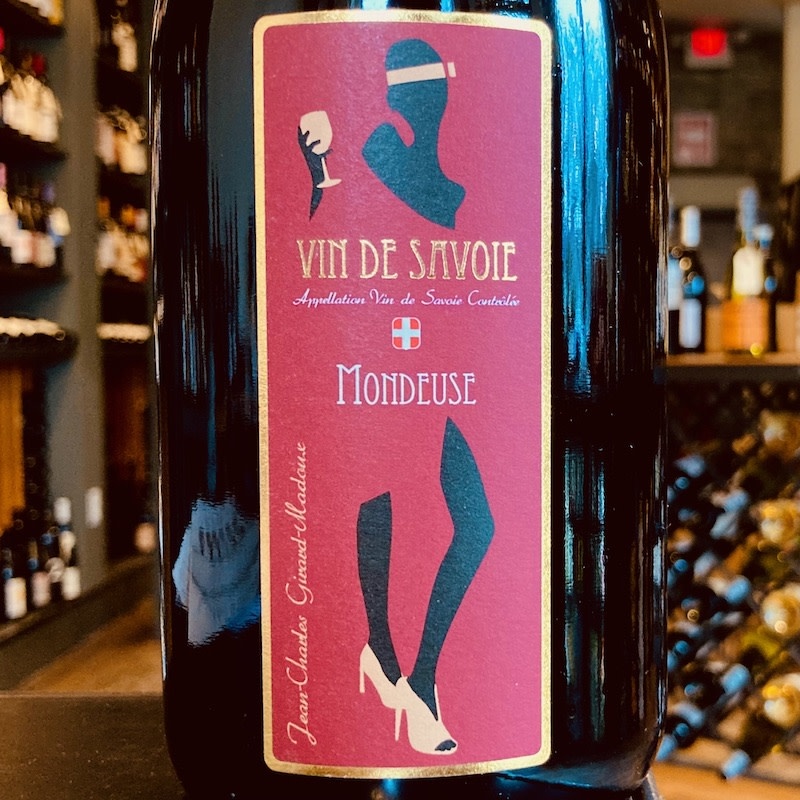 2019 Jean-Charles Girard-Madoux Mondeuse
variety: mondeuse
appellation: Savoie, France
The story of Jean-Charles Girard-Madoux is one of reclamation. For many generations, his family owned a small domaine along the steep slopes of the foothills of the Alps in the southeast of Chambéry. His grandparents were the last to plant new vines (which form the basis of his current production) before the domaine was sold in 1976. Young Jean-Charles took an interest in winemaking, made it his course of study, and in 2006, returned to his familial homeland to re-purchase the vineyards of his familial heritage. This red is a classic expression of the Savoyard native variety mondeuse, which bears resemblance and distant genetic relation to syrah, famously grown just a little to the west of here. We love mondeuse with fresh bread and the best, well-aged mountain cheese you can find.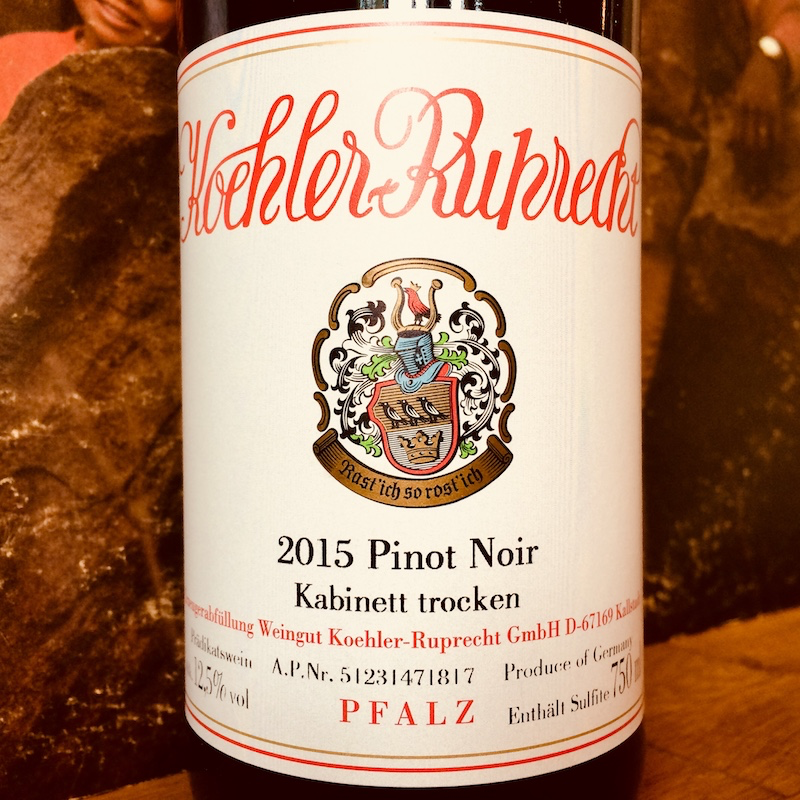 2019 Koehler-Ruprecht Pinot Noir Kabinett trocken
variety: pinot noir
appellation: Pfalz, Germany
Around since the 1700s, Weingut Koehler-Ruprecht is still very old-school. They earned a reputation for stunning dry wines from the Pfalz during a time when most production was still leaning toward sweeter styles. Dominik Sona & Franziska Schmitt are currently running operations, maintaining the same traditions that have been in place for decades: dry farming, no chemical treatments, long spontaneous fermentation in large, old wood barrels, et cetera. When the exclusive VDP club changed their labeling rules to no longer allow for pradikat designations on dry wines, Koehler-Ruprecht quit the club rather than change the way they've always done things. They don't use fancy modern equipment and generally just allow the wine to be an expression of the vintage. Most of the production is riesling, but they also make fantastic pinot blanc, chardonnay, and pinot noir (and this bottle certainly goes toe to toe with any Burgundy in its class). The combination of cherry candy, minerals, soil, a supple mouthfeel and lively acidity will complement a number of dishes including roast pork, salmon, butternut squash or what we ended up making: white mushroom & onion pizza. Be sure to serve it lightly chilled (10-15 degrees below room temp ought to do the trick).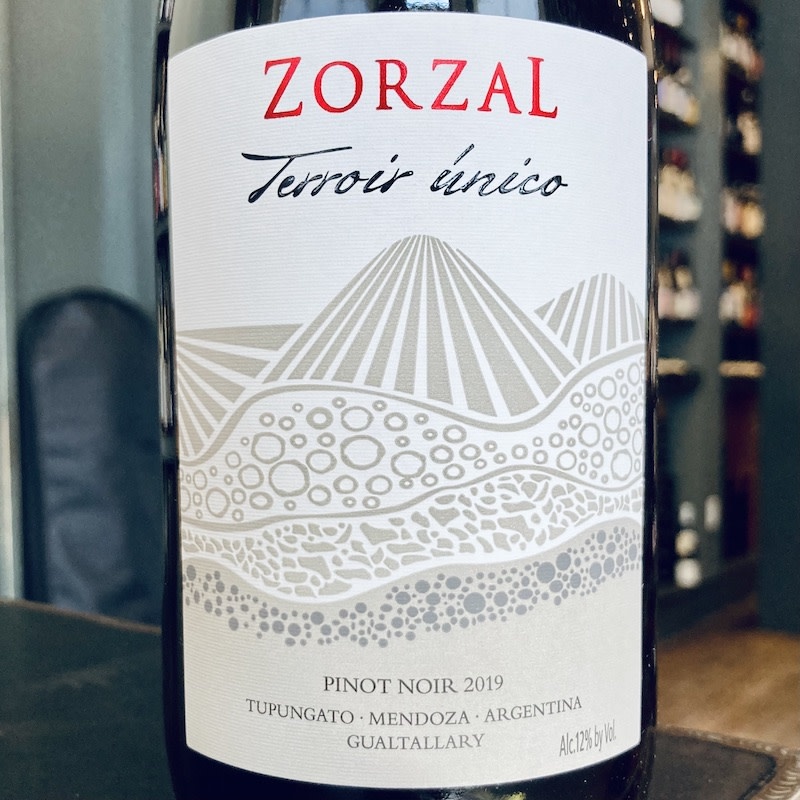 2019 Zorzal "Terroir Unico"
variety: pinot noir
appellation: Gualtallary, Tupungato, Mendoza, Argentina
There's a lot of excitement in Mendoza's Uco Valley, where high altitude, calcareous soils in the foothills of the Andes are offering up wines with refreshing acidity. Particularly in the unique mountain climate of Gualtallary in Tupungato, which was first planted to vine in the early 1990s, having previously been considered too cold to grow grapes. In 2007, the Michelini brothers (Gerardo, Matías, and Juan Pablo) founded Zorzal and have led the charge by harvesting earlier than other growers, bucking the trend of overblown ripeness often seen in Argentinian wines. Juan Pablo Michelini and Noelia Juri are making the wine at Zorzal these days, though the Michelini family has its hands in projects all over the region. The "Terroir Unico" pinot noir comes from a single vineyard that sits 4,264 feet above sea level— unoaked and transparent, it offers a brilliant snapshot of this singular terroir. Enjoy with something simple and earthy like garlicky mushrooms over creamy polenta.